Nothing beats the taste of homemade tomato sauce, especially with fresh tomatoes in it. These 7 authentic Italian homemade tomato sauce pasta recipes include some delicious classic examples of how fresh tomato sauce is made in different parts of Italy and what kinds of pasta Italians serve it with. These recipes are for simple tomato sauce pasta dishes, some of which also include cheese.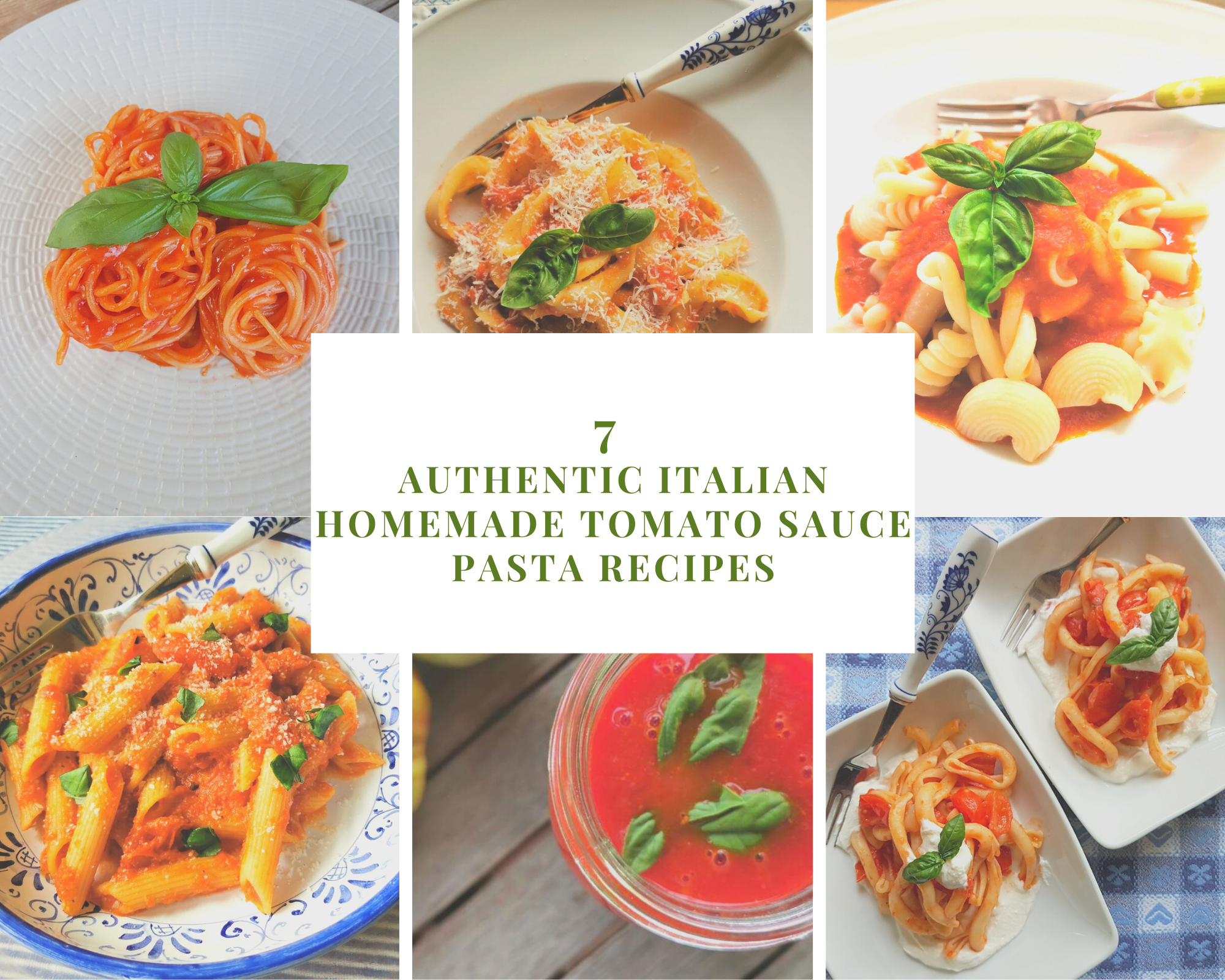 Pasta with tomato sauce is a family favourite in Italy!
Pasta with tomato sauce is a staple meal for many Italian families. Both children and adults love it. Tomato sauce pasta is to Italian kids what sausages and mash are to British kids or hot dogs and chicken nuggets are for American youngsters. It's the meal parents order for their children in restaurants, whilst the adults have something more sophisticated!
The origins of tomato sauce.
Spaghetti with tomato sauce is an iconic Neapolitan recipe that dates back to the early 1800s. It has been a symbol of Italian cuisine ever since!  According to food history texts, the Spanish were the first to bring tomatoes to Europe from South America in the 1500s. They called them 'tomatl' (actually an Aztec word).
The first written reference to a homemade tomato sauce dates back to 1692. This was a sauce of ember roasted tomatoes with onions, chili, and thyme. People ate it with meat and called it 'salsa di pomadoro alla Spagnuola'. (Spanish style tomato sauce). The Spanish were the first Europeans to integrate tomatoes into their diet!
However, unlike the Spanish, the Italians didn't take to tomatoes at first. In fact, most thought they were poisonous! Subsequently, tomatoes were only popular as ornamental plants. It actually took around another 200 years for tomato sauce as we know it to become popular in the Italian kitchen!
The first Italian tomato sauce pasta!
The Spanish ruled Naples and Sicily during the 16th and 17th centuries. So, unsurprisingly, the inclusion of tomatoes in the Italian kitchen started there. However, it wasn't until the 1800s that Italians started to eat tomato sauce with pasta! The first recorded recipe for spaghetti with tomato sauce was published in 1837!
Which tomatoes do Italians use for homemade tomato sauce?
As you can imagine, from the 19th century onwards the cultivation of tomatoes in Italy really took off. Nowadays, there are around 300 varieties of tomatoes cultivated here! Yes 300! About 20 are used for sauce. Of these, the most well-known outside of Italy is most probably San Marzano. It's also the most popular tomato in Italy for tomato sauce, salsa di pomodoro in Italian.
San Marzano tomatoes have an elongated shape and firm pulp. They are originally from the small town of San Marzano sul Sarno, near Naples and were first grown in volcanic soil under Mount Vesuvius. Italians use this tomato for sauces, passata and canning (best canned tomatoes are San Marzano).
During the summer months, Italian families make tomato sauce with fresh tomatoes as summer tomatoes really are the tastiest. Many also continue the old tradition of making homemade passata, which they preserve for the winter.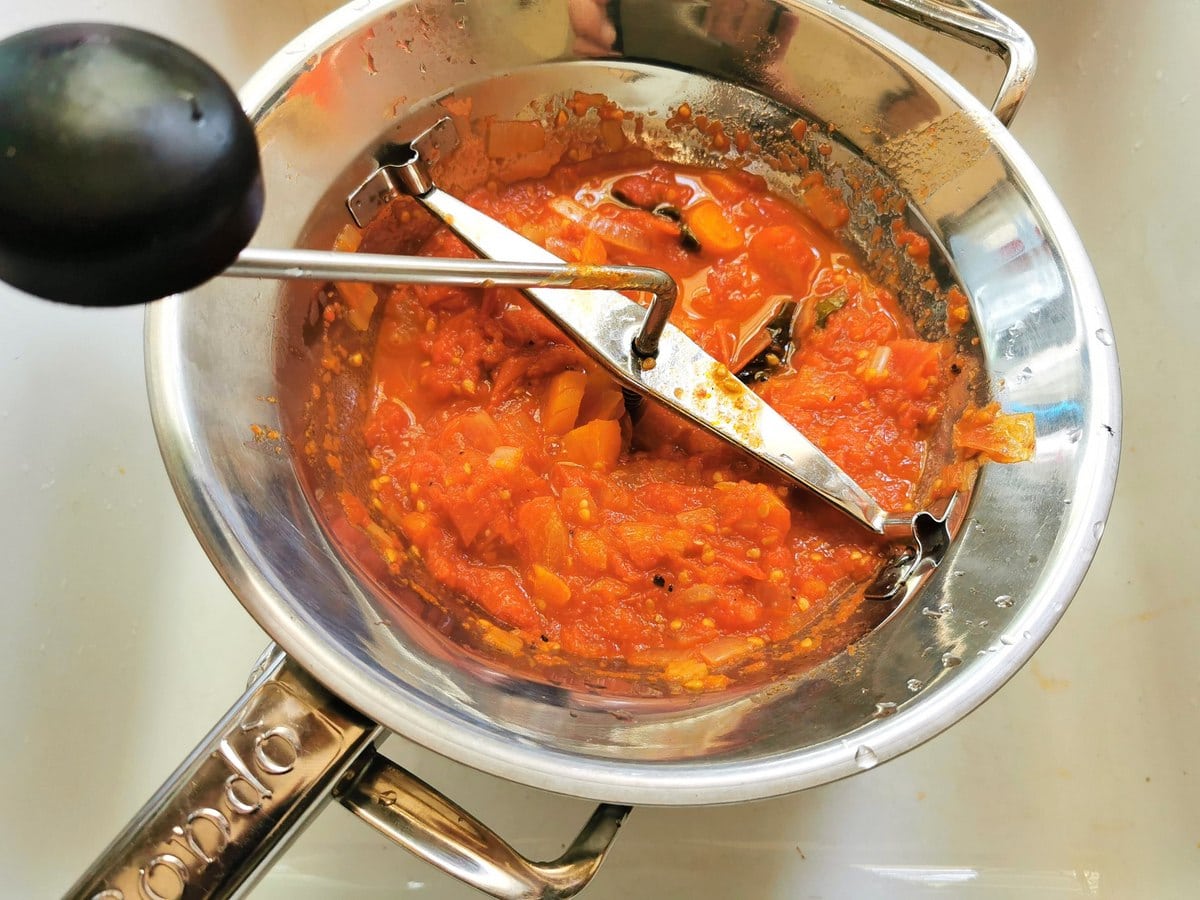 In fact, at this time of year, Italian supermarkets stock cases of San Marzano tomatoes, packs of mason jars and a kitchen tool called a 'passaverdura', a manually operated food mill used for making passata the original way.
What is Italian passata?
In English 'passata' is normally called tomato purée. The word 'passata' comes from the verb 'passare', meaning to go through. This is because traditional Italian tomato passata involves passing par-boiled or raw tomatoes through the blades and holes of the food mill mentioned above. Traditional passata has nothing in it but ripe tomatoes. If you add garlic or herbs then, in reality, it's a tomato sauce not passata.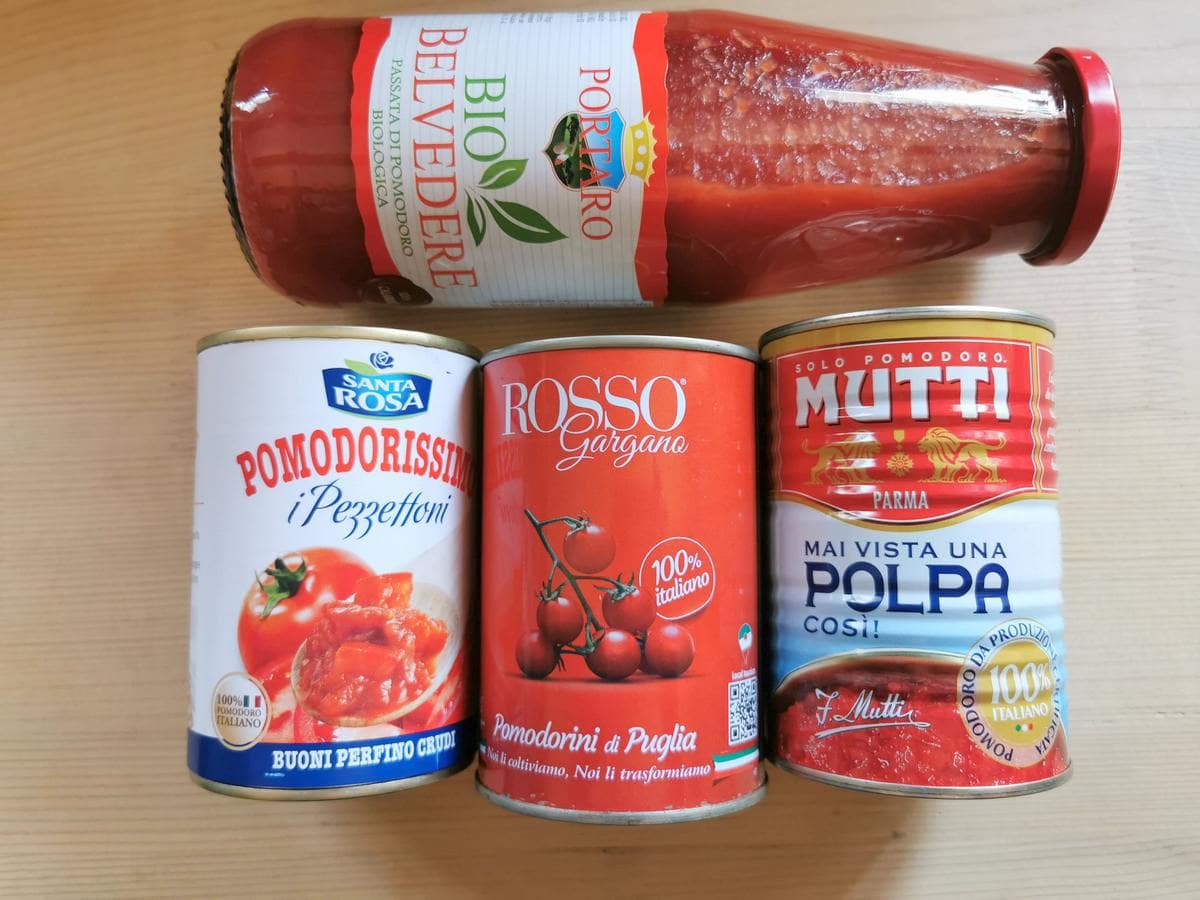 How do Italians make tomato sauce?
Italians make tomato sauce with mostly either homemade or canned passata or peeled fresh or canned tomatoes. The tomatoes are most often San Marzano, but many also make tomato sauce with fresh or canned cherry or datterini tomatoes, as well as other varieties. In addition, Italians use crushed (polpa) or chopped (pezzettoni) canned tomatoes instead of smooth passata.  I often use a combination of fresh tomatoes and passata.
Unlike passata, tomato sauce has other ingredients. In Southern Italy, they traditionally just use olive oil, garlic and basil. That's how my Sicilian hubby makes his. This Southern Italian tomato sauce is also called 'alla marinara'. However, there are versions of marinara sauce that include ingredients like onions, oregano, white wine, parsley and pepperoncino (red chilli pepper).
The word 'marinara' translates to seafaring or to 'sailor style' or 'mariner style'. The name comes from the fact that, historically, it was a popular food among Italy's merchant sailors on long sea voyages. Marinara sauce is commonly used with pasta, on pizza and also with meat or fish. Meat or fish recipes with a marinara sauce may also be called 'alla pizzaiola', meaning pizza style.
In other parts of Italy, they make tomato sauce with the traditional Italian soffritto of finely chopped onions, celery and carrots. Soffritto is the Italian 'mirepoix'. It is the base for many sauce, soup, and stewed meat recipes. Before cooking soffritto, Italians refer to it as a 'battuto'. Sometimes, recipes call for garlic in the soffritto as well, although in general onions and garlic aren't used together.
These 7 authentic Italian homemade tomato sauce pasta recipes.
The following Italian tomato sauce pasta recipes include different ways to make tomato sauce from a simple marinara to pizzaiola from Puglia to Tuscan pomarola with onions, celery and carrots.
In order to really understand the difference flavours of each sauce, I recommend trying some of these recipes. Not only can you decide which is your favourite, but you can also expand your tomato sauce repertoire to more than one recipe. After all, here in Italy, there is certainly more than one way to make it!
Click the recipe name to go to the recipe post and instructions.
Sagne torte with tomato sauce.
Sagne torte with tomato sauce is a simple but delicious typical Sunday lunch recipe from Salento in Puglia, Southern Italy. The pasta is a traditional twisted flour and water tagliatelle. The sauce is an easy to make Southern Italian 'marinara' usually containing fresh tomatoes or passata, basil and garlic. Once plated, the pasta and tomato sauce is dressed with a strong ricotta. You can use other types of pasta, of course!
Homemade tomato sauce pasta with ricotta.
In this recipe, Sicilian spaccatelle pasta is paired with a homemade cherry tomato sauce and served on a bed of creamed ricotta. The sauce is similar to the classic Southern Italian version with just tomatoes, garlic and basil. Spaghetti and penne are perfect in this recipe too!
The best spaghetti with tomato sauce ever!
Once you try this recipe for spaghetti with tomato sauce by Michelin star Neapolitan chef Peppe Guida, you will never want to make this classic Italian pasta dish any other way! The ingredients are typical of other Southern Italian tomato sauce pasta recipes, but the spaghetti is cooked in the sauce giving it a deep fresh tomato flavour.
Tuscan pomarola with mixed pasta.
Tuscan pomarola is a traditional homemade tomato sauce from Tuscany. You can make it with a combination of different types of fresh tomatoes or with just one type. I made it with fresh Costoluto Fiorentino tomatoes from my garden. This sauce also includes onions, carrots and celery but without frying them. This is a great recipe for homegrown summer tomatoes.
Pasta with tomato sauce allo scarpariello.
Pasta with tomato sauce allo scarpariello is a traditional Neapolitan recipe. Originally, it was a way to make use of leftover Sunday ragu. Today, it's made with fresh tomatoes and/or passata with lots of cheese melted into the sauce. This is a simple tomato and cheese pasta dish that's easy to put together and perfect for family meals.
Pasta alla pizzaiola.
This delicious pasta recipe from Puglia is based on pizza marinara sauce, hence the name! The tomato sauce also includes capers, oregano, and anchovies but you can leave the latter out for a vegetarian version. You can also serve this dish baked. It is simple to make and full of Mediterranean flavours!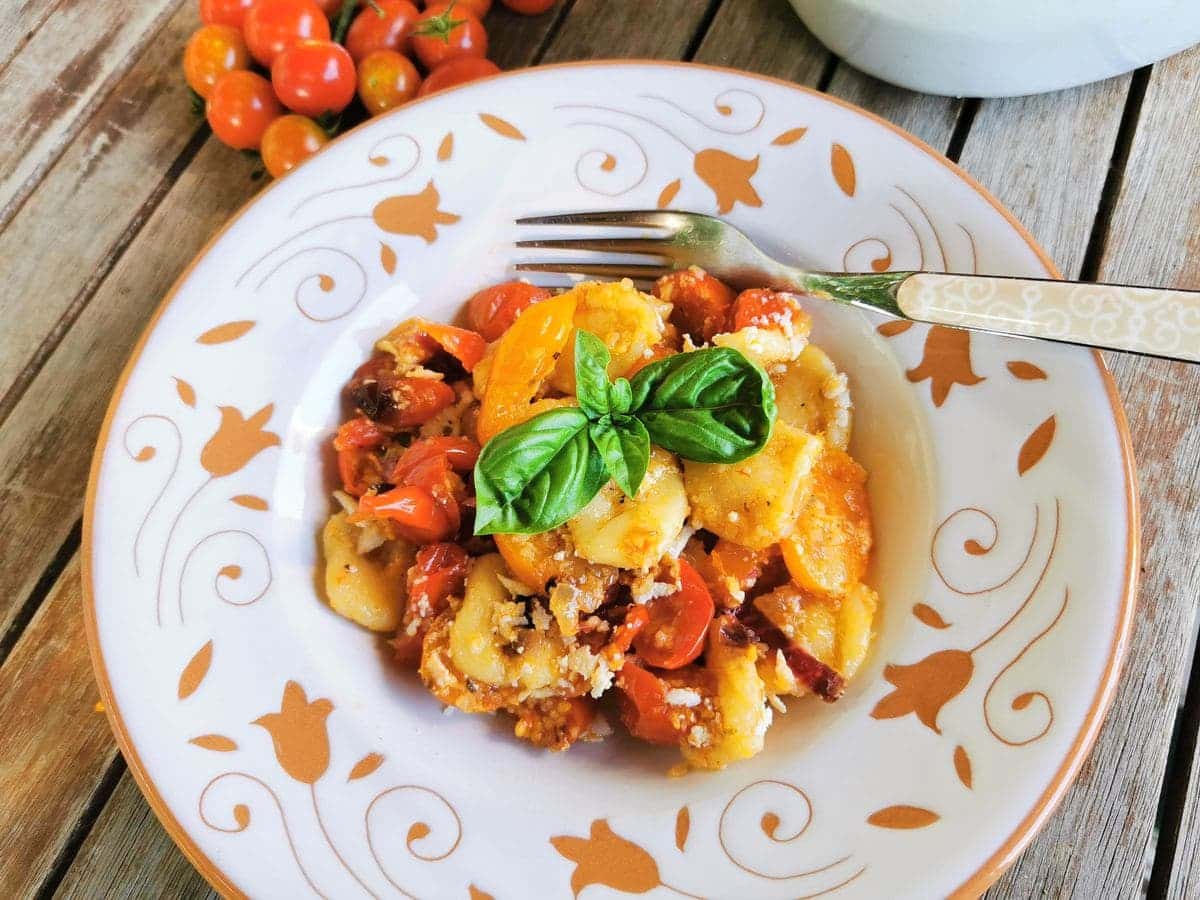 Orecchiette with roasted tomatoes.
For this orecchiette pasta recipe, the tomatoes and the other 'sauce' ingredients; onion, garlic, oregano and basil, are generously coated with extra virgin olive oil, topped with a sprinkling of breadcrumbs and pecorino and then you roast everything together. I loved the flavour that the roasted onion also gave to this sauce and the crunchy texture of the breadcrumbs. I'm sure you will too!