I found this salt cod (baccalà) and porcini tagliatelle recipe in an Italian cookbook I have of recipes from Abruzzo and Molise. However, there are lots of versions of it online (in Italian) too. This is the first time I used baccalà with porcini (ceps) but it won't be the last. This dish is fantastic! The recipe also calls for cloves, nutmeg and lemon zest, all of which give this pasta recipe from Abruzzo an exceptionally rich flavour profile.
What is salt cod (baccalà)?
Salt cod is exactly what the name suggests, dried and salted cod. Actually, the cod is first salted then dried. Then, before cooking, it has to be desalted and rehydrated. This is usually done by soaking it in water, which has been frequently changed, for about 3 days. However, here in Italy, it's also possible to buy salt cod that's ready for cooking. This is what I used for this Italian salt cod (baccalà) and porcini tagliatelle recipe.
In some places, other white, salted, and dried fish such as pollack, haddock, and whiting are sold as salt cod. I'm not sure how similar these fish taste and only cod is the authentic baccalà. But, due to overfishing and depleted cod stocks, other white salted fish can be a less expensive and more sustainable choice.
A little baccalà (salt cod) history.
Known as baccalà in Italian, bacalhau in Portuguese and bacalao in Spanish, salt cod has been a popular ingredient in Northern Europe and the Mediterranean for hundreds of years. It's also found in Caribbean, West African and Brazilian cuisines and in some parts of Mexico.
Drying and salting was one of the first ways people preserved food. Salt cod is popular in so many different countries, particularly around the Atlantic, because it was a staple food on merchant and navy ships back before there was any type of refrigeration.
In the 1500s, the Portuguese and Basque fishermen fished cod and whale off the coast of Newfoundland. They dried the cod and made the whale oil in North American whaling stations and then brought both back to Europe.
In fact, originally most of the cod used to make salt cod in Europe came from the Grand Banks off the coast of Newfoundland. But, because of overfishing the populations of cod there have declined. Most salt cod now comes from Norway or Iceland.
Baccalà is traditional in Italy on Christmas Eve.
Salt cod became really popular in Italy and the rest of Catholic Europe as a result of the Council of Trent (1545-63) when Catholics were forbidden to eat meat for 200 days a year, including Fridays, Lent and the eves of holy days like Christmas Eve.
There were many meatless days but, not everyone could afford or had access to fresh fish. So, salt cod became the ideal food for the poorest worshippers and Catholics living far from the coast. Nowadays, there are far less meatless days in the Catholic calendar. However, salt cod remains a popular dish on days of abstinence from meat, particularly on Christmas Eve and during Lent.
What's the difference between baccalà and stockfish?
Here in Italy, there are two types of dried cod, salted and air-dried. Fresh or frozen cod fish is called merluzzo in Italian. However, salt cod is called baccalà and air-dried cod is called stoccafisso (stockfish).  Stockfish is even older in origin than salt cod and was most probably invented by the Vikings and brought to Italy by the Normans. Like salt cod, stockfish needs to be soaked in water for a number of days before cooking.
Italian recipes for baccalà.
Many Italian recipes for baccalà can also be made with stockfish and vice versa. However, stockfish is more popular in Northern Italy and baccalà more commonly used in Central and Southern Italy. Many Italian regions have recipes for salt-cod.
In Sicily, you can find it made in a tomato sauce with olives, capers and potatoes in a dish called 'alla ghiotta' which is also served with pasta (see link below). Sicilians also like to deep fry salt cod. The latter is my husband's favourite way to make it.
Here in Veneto, they use stockfish or baccalà to make a recipe called baccalà alla Vicentina. The rehydrated fish is cooked in milk for up to 4 hours and served with polenta. In Rome, they make it alla Romana. This is similar to the Sicilian way with tomatoes and potatoes but also with pine nuts and sultanas.
In Livorno, salt cod is cooked with tomatoes, garlic and basil. In Naples, where legend says there are 365 ways to eat baccalà, it's commonly eaten with a tomato sauce with capers, olives and pine nuts. This recipe for tagliatelle with baccalà and porcini comes from Abruzzo in Central Italy and is quite unique.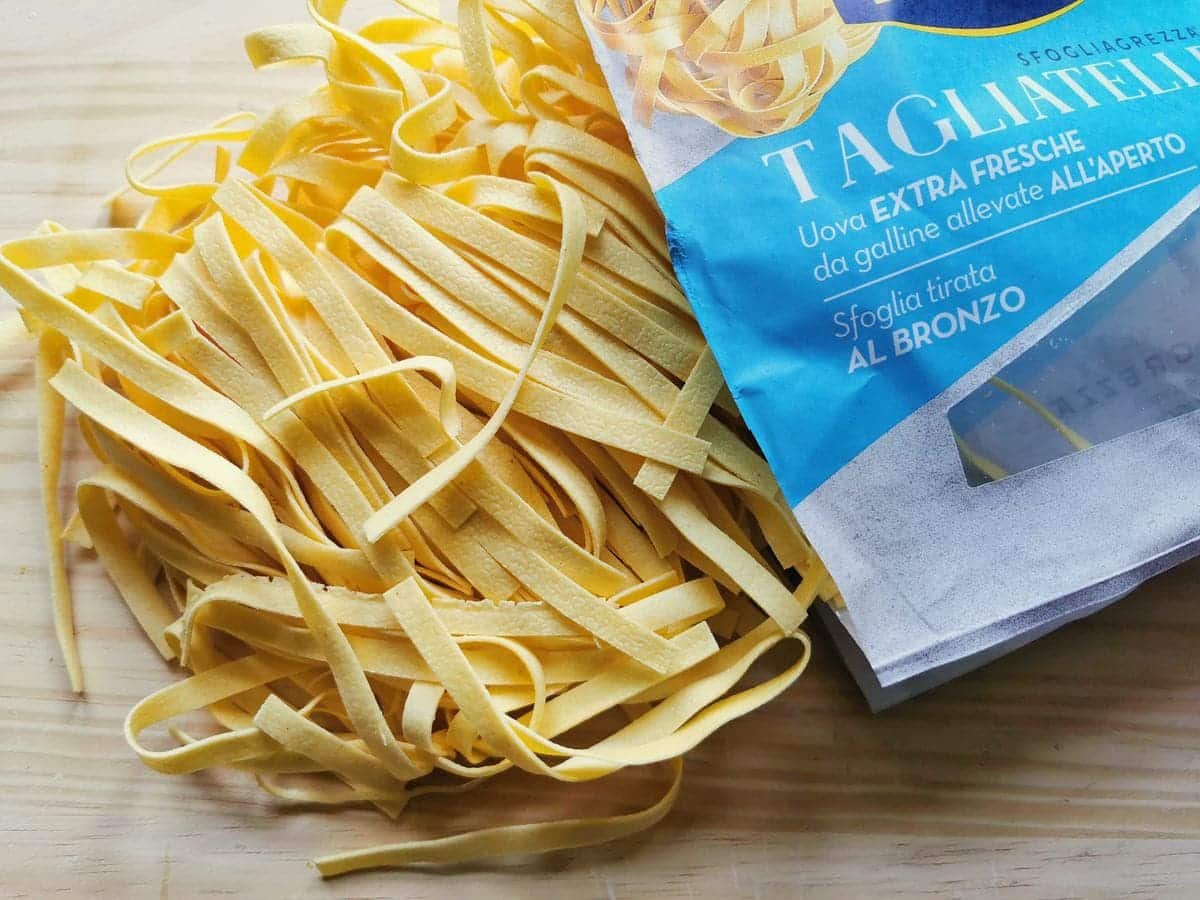 How to prepare dried salt-cod.
The best way to prepare dried salt cod is to cut it into pieces and put it in a glass or ceramic bowl with water. Cover the bowl and keep it in the fridge for 24 hours. Change the water every 8 hours. After 24 hours, take a small piece and boil it then taste for saltiness. If still salty, repeat for another 24 hours (soaking and replacing the water every 8 hours). It sometimes takes 3 days for the salt cod to be ready. Cook the baccalà immediately after soaking.
How to make your own salted cod.
You can also make your own salted cod with fresh or defrosted cod fillets. After patting them dry, just leave the fillets in a dish in the fridge covered top and bottom in sea salt for 2 days. It's a good idea to occasionally drain any water that might have accumulated at the bottom of the dish. Then wash off the salt and let the cod soak for a couple of hours, changing the water every now and again. It's then ready to cook.
Making this Italian salt cod (baccalà) and porcini tagliatelle.
Assuming your salt cod is ready to cook (desalted, rehydrated, bones removed and cut into cubes), the first thing you need to do for this recipe is soak the dried porcini mushrooms in warm water for at least 30 minutes. Then you need to finely chop the garlic, onion, carrot and celery for a soffritto. Soffritto is the Italian version of mirepoix and is used in many sauce, soup and stewed meat recipes. It doesn't always have garlic in it.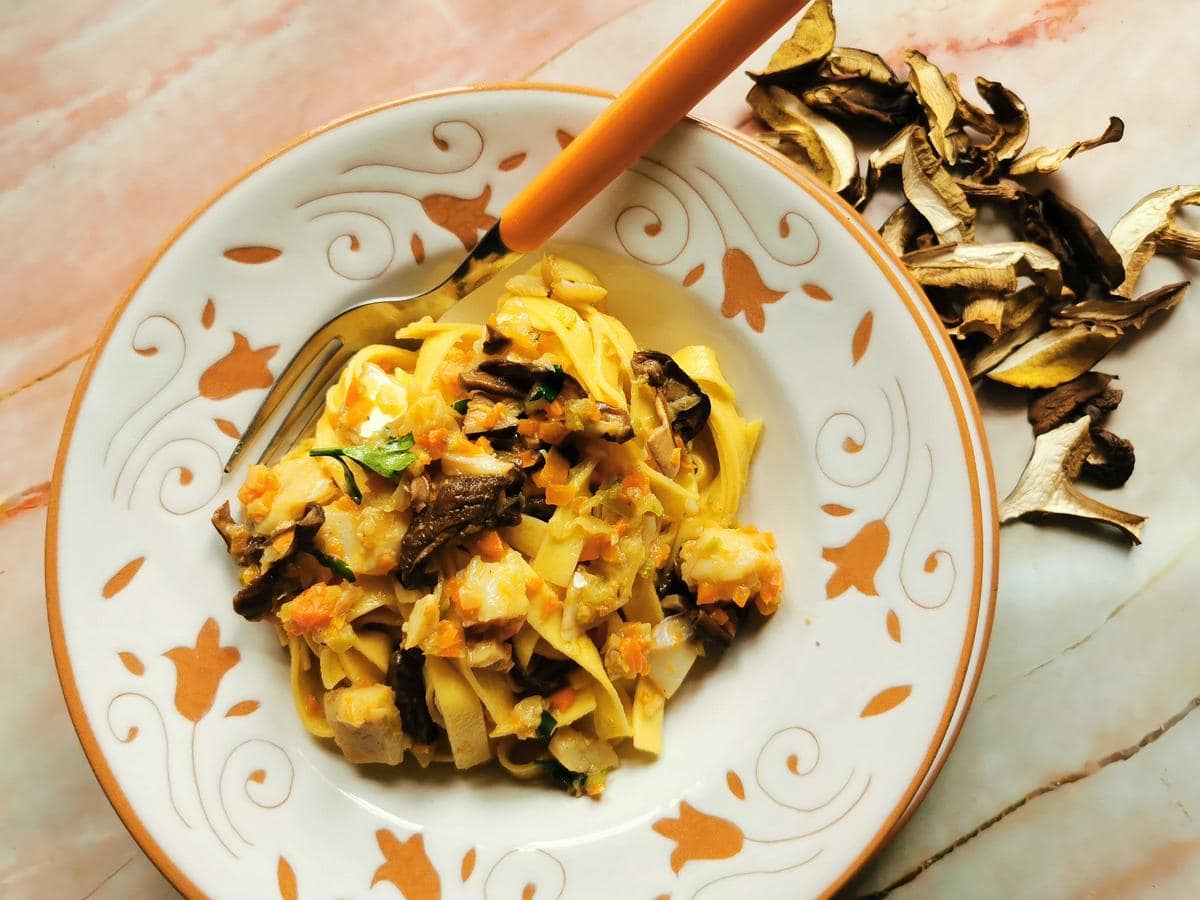 After sautéing the soffritto, the next step is to add the spices (cloves, nutmeg, lemon zest and pepper). Once the spices have released some aroma, add the drained and chopped porcini and the baccalà. Let these cook a bit and then pour in some white wine. Let the alcohol evaporate and then add a little milk. Finally add chopped parsley and some butter.
The sauce only takes about 20-30 minutes. So, in the meantime, you can put the water onto boil for the pasta. I used fresh tagliatelle. But, you can also use dried. Once the pasta is al dente, drain it and add it to the sauce. Mix everything together and serve while hot. Not really difficult, right? But oh, so delicious! I'm sure that if you try this tagliatelle with baccalà and porcini, you'll agree with me!
If you make this recipe, I'd love to hear how it turned out. Please do write a comment here on the blog, email me or post a comment on the Pasta Project Facebook page.
Your feedback is really appreciated!
Buon Appetito!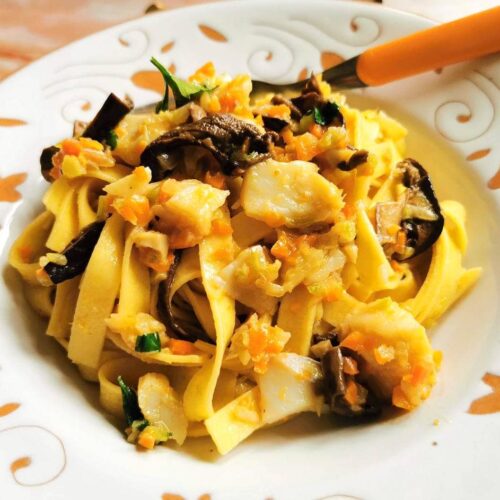 Print
Italian salt cod (baccalà) and porcini tagliatelle
This traditional tagliatelle with baccalà and porcini is a recipe from Abruzzo in Central Italy. The combination of salt cod and porcini mushrooms with cloves, lemon zest, nutmeg and wine give this recipe a unique and rich flavour that is really special and definitely worth trying. Perfect for Lent and other meatless days.
Ingredients
400

g

tagliatelle (14oz)

I used fresh tagliatelle from Giovanni Rana

400

g

salt cod (baccalà) (14oz)

soaked, desalted and rehydrated (see text for instructions)

30

g

dried porcini mushrooms (1oz)

soaked in warm water

1

onion

peeled and finely chopped

1

carrot

washed and finely chopped

1

celery stalk

washed and finely chopped

1-2

garlic cloves

peeled and finely chopped

1/2

tsp

nutmeg

grated

2-3

cloves

crushed

1

tsp

lemon zest

(organic lemon)

0.5

glass

white wine

1

tbsp

milk

40

g

butter (1.5oz)

freshly ground black pepper.

to taste

salt

for pasta and to taste

3-4

tbsp

extra virgin olive oil.

1

handful

fresh parsley

washed and chopped
Instructions
Prepare the ingredients
Cut the prepared salt cod (baccalà) into small chunks (see text for prep instructions if necessary). Peel and finely chop onion and garlic. Wash and finely chop carrot and celery. Wash and chop parsley. Saok the dried porcini in warm water for at least 30 minutes. Drain and chop. Save the liquid to add to the sauce if required.
Cook the baccalà and porcini sauce
Sauté the chopped celery, carrot, onion, garlic in olive oil. after a couple of minutes, add the crushed cloves and nutmeg, grated lemon zest and some freshly ground pepper.

Once the veggies are soft and you can smell the spices, add the drained and chopped dried mushrooms and pieces of salt cod. Turn the fish and mushrooms so they cook on all sides then add the white wine and allow the alcohol to evaporate.

Add the milk and season with salt and pepper (taste test first as you don't want it too salty). Finally add the chopped parsley and, at the very end, add the butter and mix it gently into the hot sauce until it melts. If your sauce seems dry you can add some of the porcini soaking water or pasta cooking water.

Put a pot of water on to boil for the pasta. Add salt once it starts to boil and bring to the boil again. Cook the pasta al dente according to the instructions on the packet. My fresh tagliatelle took only a couple of minutes.

Drain the pasta and add it to the sauce. Mix everything together well and serve immediately.
Notes
Tagliatelle is the traditional pasta for this dish but you can also use pappardelle or other pasta ribbons.
Instead of dried mushrooms, you can use fresh.
Other baccalà pasta recipes to try.
Spaghetti alla ghiotta from Sicily
Other authentic Italian tagliatelle recipes you will love.
Tagliatelle with peas and pancetta from Veneto
Creamy pork fillet tagliatelle from Trentino-Alto Adige
Tagliatelle with rabbit ragu from Le Marche
Cinnamon spiced pork ragu with tagliatelle from Friuli Venezia Giulia
Tagliatelle with Bolognese from Emilia-Romagna