When fresh basil is out of season or hard to find, I love to make pasta with rocket pesto. Rocket (arugula) has a slightly peppery and stronger flavour than basil. But, the pesto is equally delicious and just as easy to make!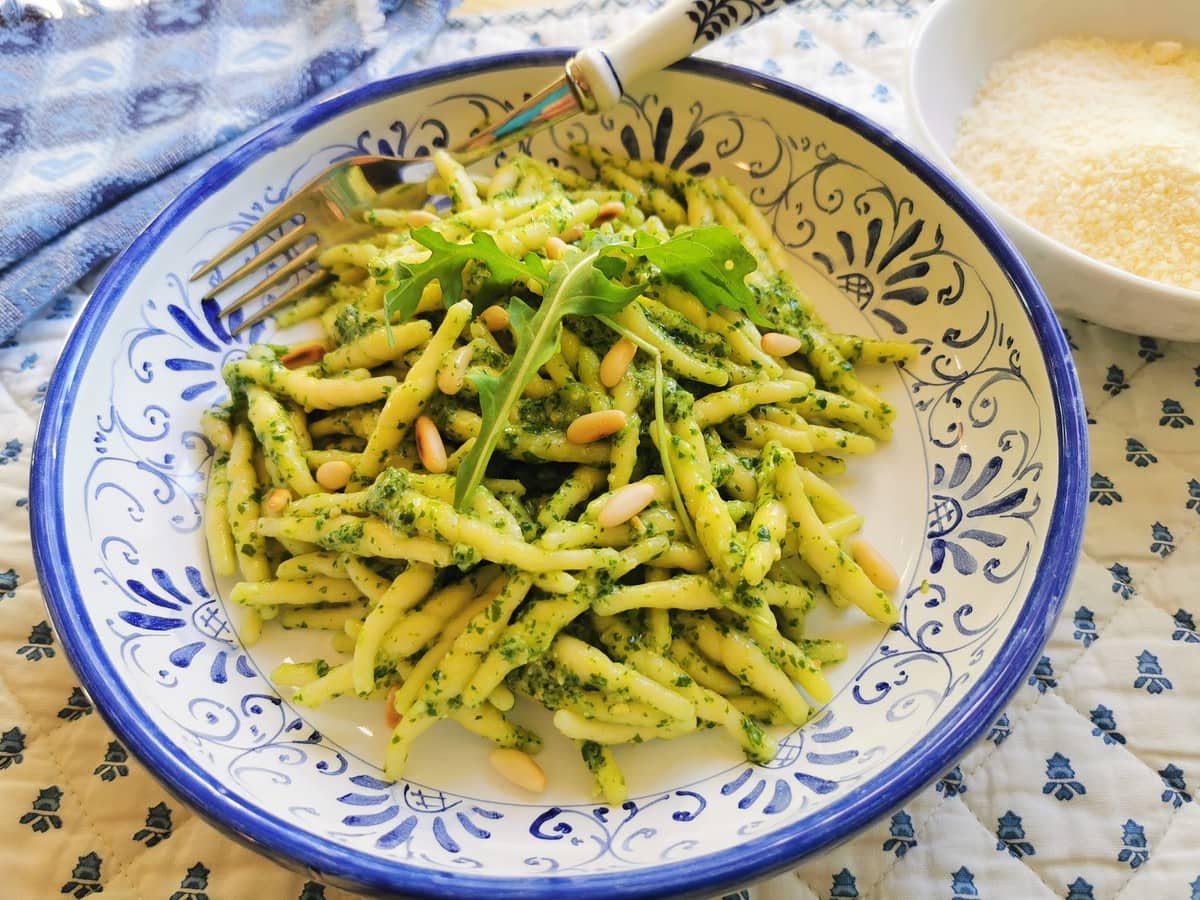 Arugula, rocket, rucola, eruca, roquette..
Known by many names such as arugula in American English and rucola in Italian, rocket is a leafy salad vegetable that's native to the Mediterranean. In fact, it grows wild in many parts of Italy, even all year round and is super easy to cultivate.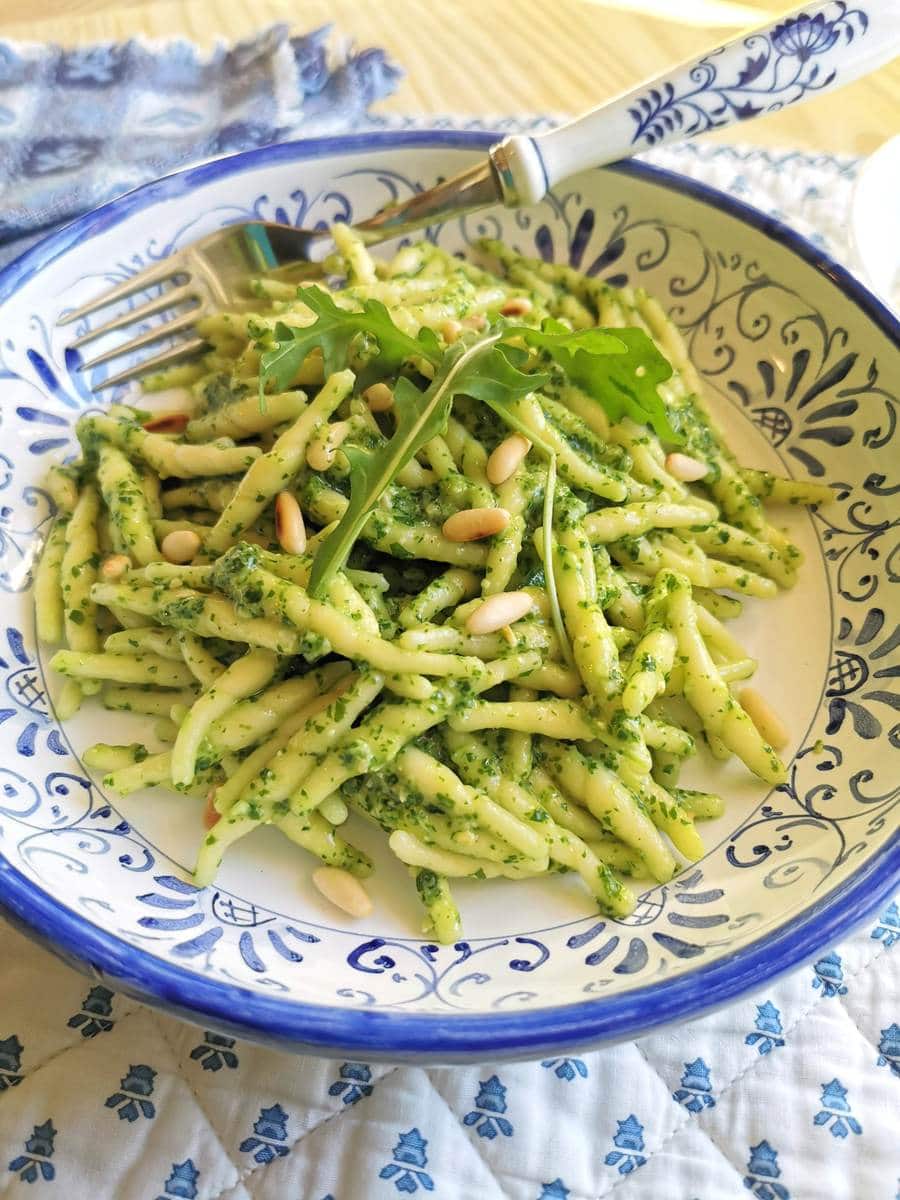 Wild rocket is much more aromatic and pungent than the cultivated variety. But, it does have a marked bitter aftertaste that not everyone likes. So, I prefer to use cultivated rocket in this trofie pasta with rocket pesto recipe.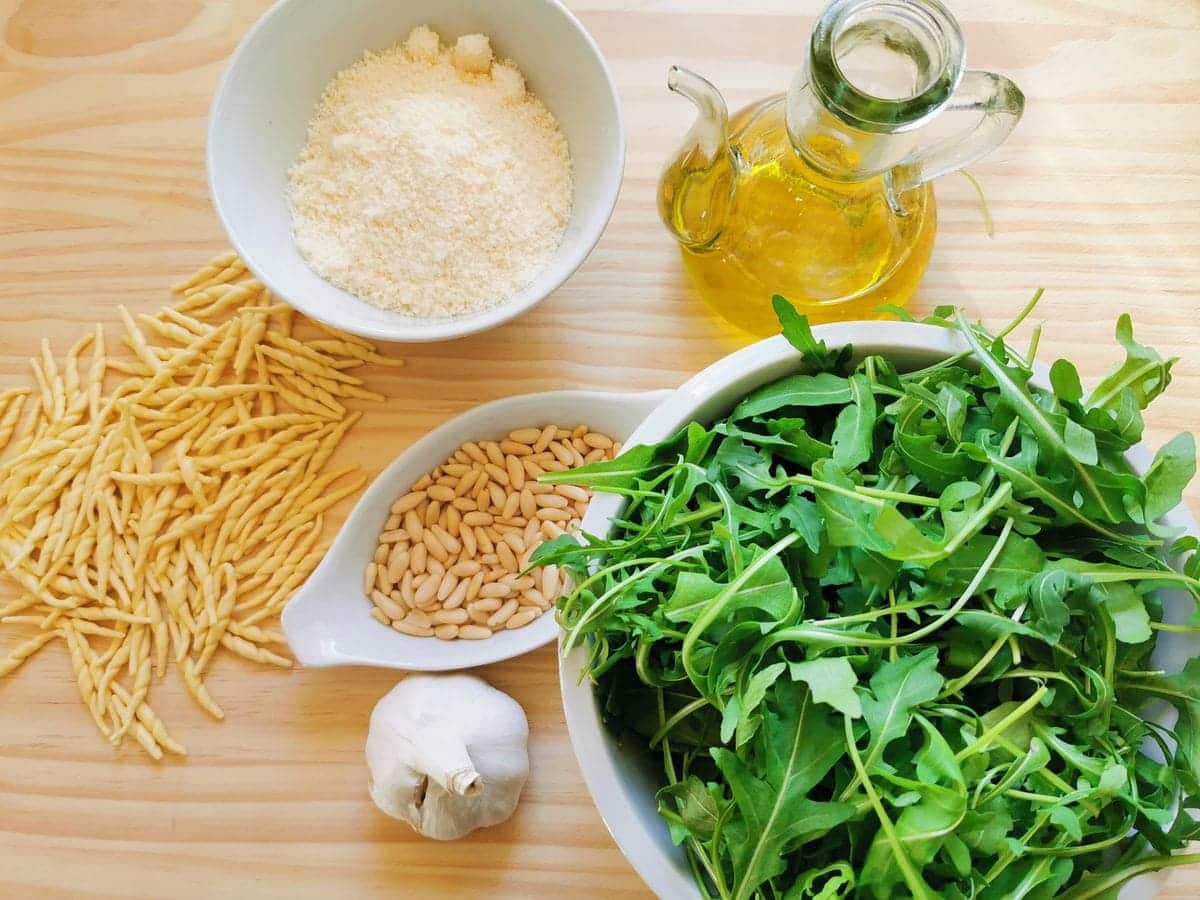 Rocket as an aphrodisiac.
Italians have been eating rocket since the times of Ancient Rome. Interestingly, rocket started being used more as an aphrodisiac than a salad! The ancient Romans made use of it as an ingredient in love potions! In fact, they often grew it in soils embellished with phallic statues to honor Priapus, the god of fertility!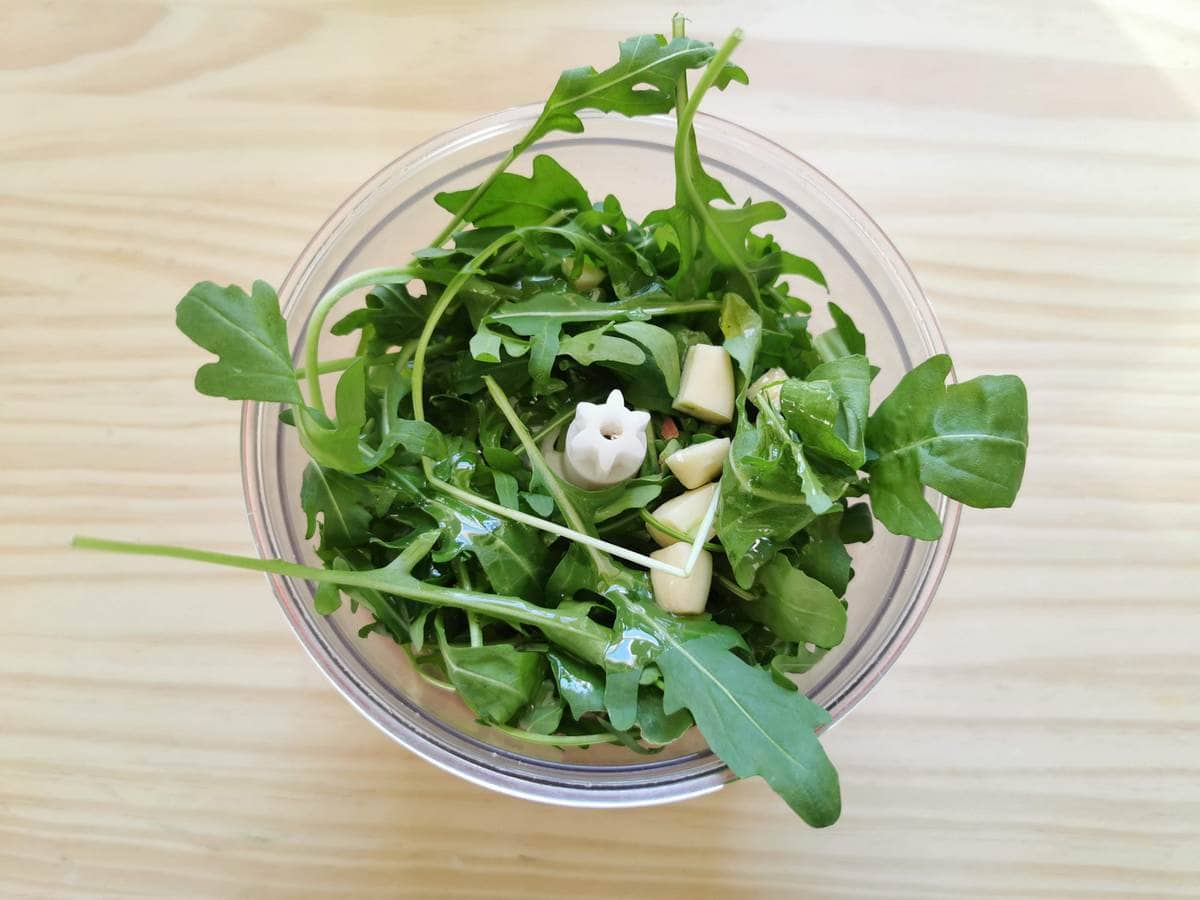 In the Middle Ages, rocket was banned in monasteries because of its notorious fame. However, these beliefs may not have been unfounded. Researchers from the Department of Pharmacological Sciences of the University of Milan and the University of Bologna have made studies to verify the effectiveness of rocket as a sexual stimulant!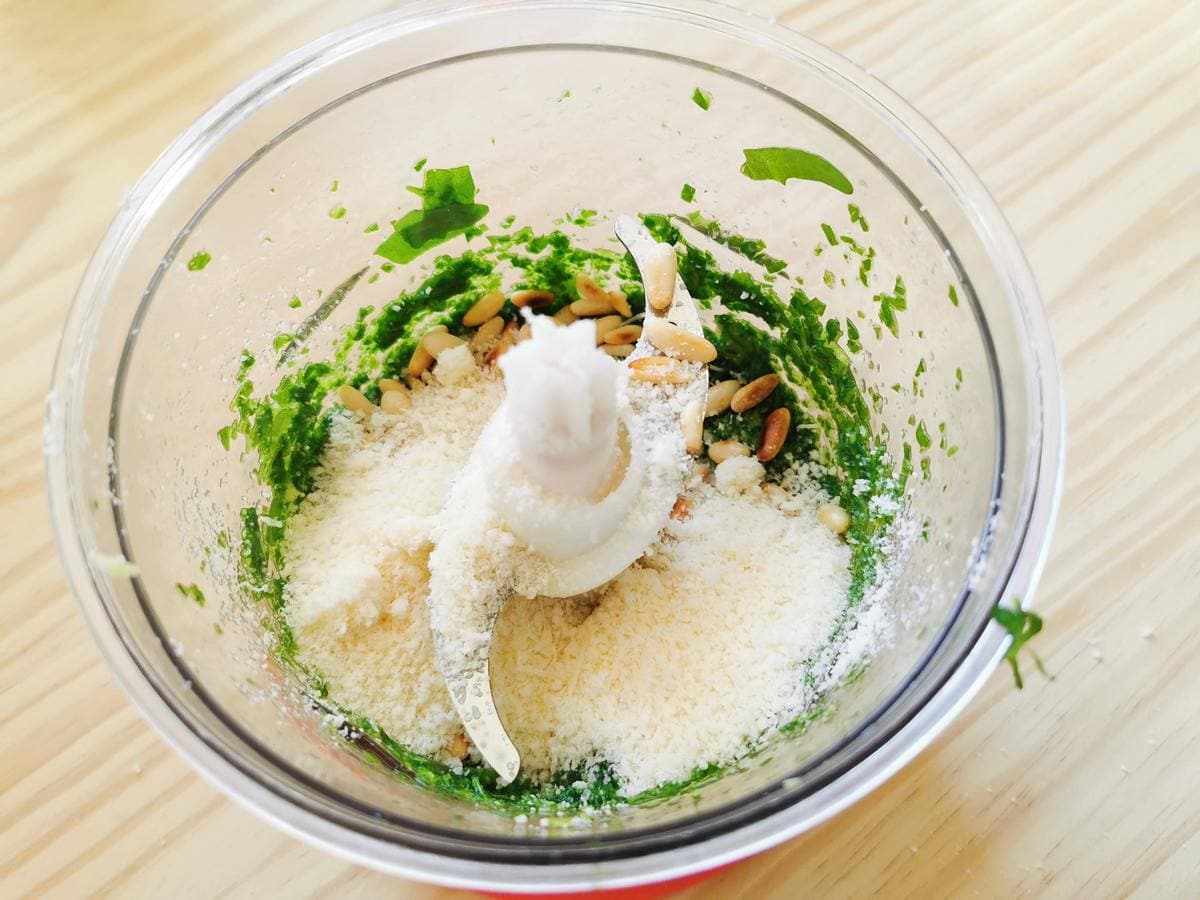 Pesto in Italy.
When I first moved to Italy in 2003, I lived on pesto (store bought!) and fresh pasta, which meant my dinner was always ready in less than 10 minutes! It took me many years to try making my own. I don't know why because it's so EASY! Now I make all kinds of pesto, both traditional and more contemporary (see links below).
Pesto is only actually traditional in 3 Italian regions. The first is Liguria. Basil pesto comes from the region's capital Genova. The Genovese had a great merchant navy which traded all over the world. Their ships often stopped to trade and for supplies in Sicily. Food history tells us that it was the Genovese sailors who introduced the Sicilians to pesto.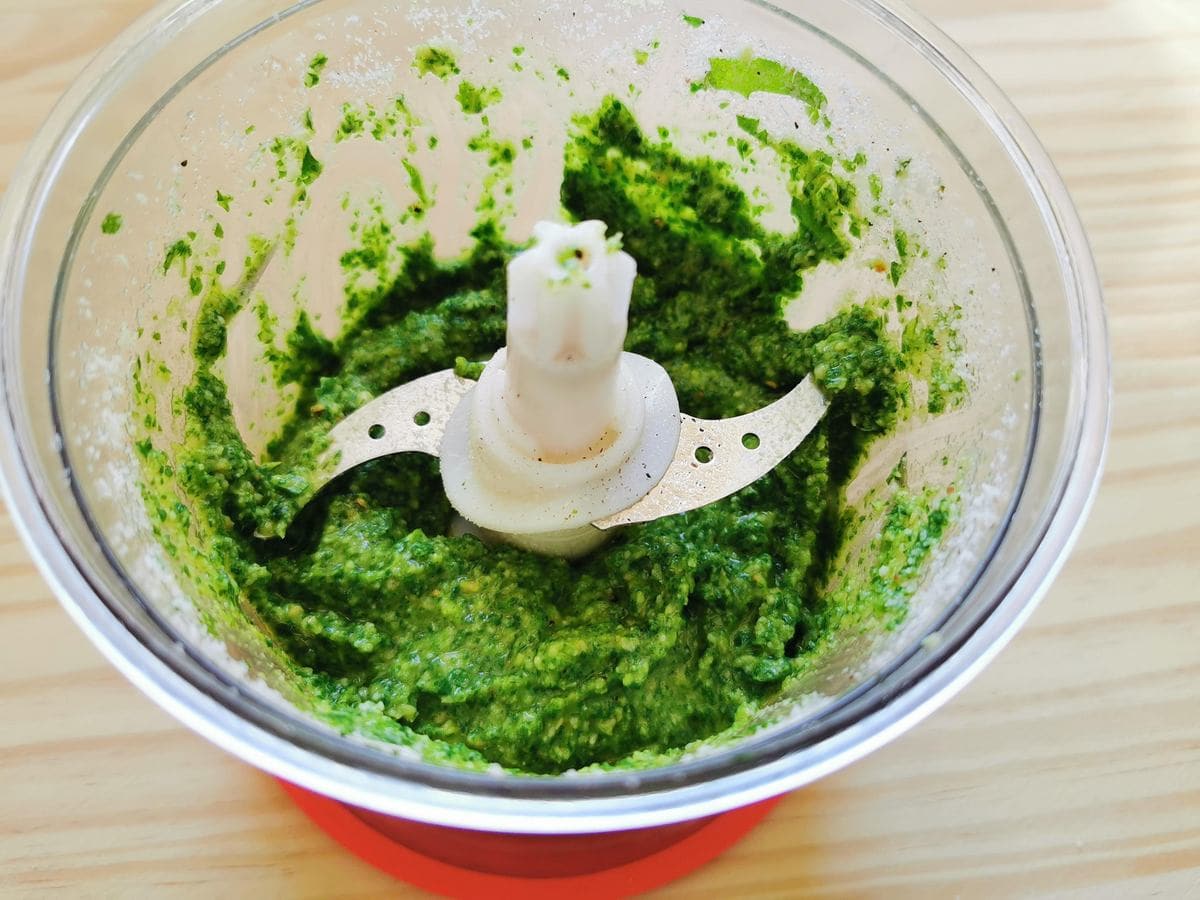 So, Sicily is another region where pesto is traditional, although the Sicilians used local seasonal ingredients to make their own versions. You can also find pesto in Calabria and I guess the Calabrians got the idea from the Sicilians!
Different types of pesto
In recent years, pesto has become more varied. There are a number of contemporary recipes apart from this rocket pesto. Italians also make pesto with sweet peppers, olives, chicory (radicchio), parsley, mint and dandelion. Yes dandelion! I once ate that in a Michelin star restaurant! Pretty expensive dandelions!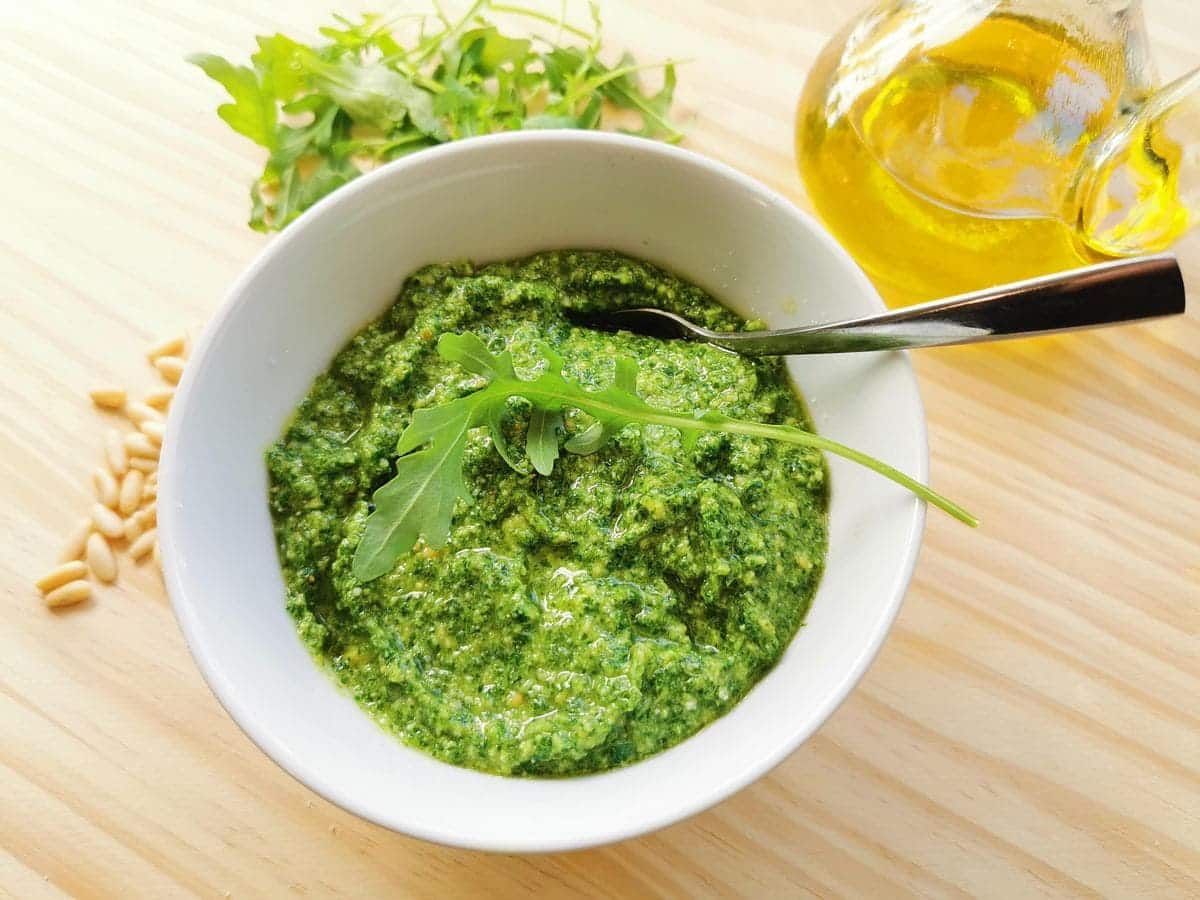 Pesto is great on other foods, not just pasta. You can put it on sandwiches, pizza, baked potatoes or burgers; add it to seafood or soups or just use it as a dip. And I'm sure there are many other recipes which can include it. However, on pasta remains my favourite way of eating it and trofie are definitely my favourite pesto pasta partner!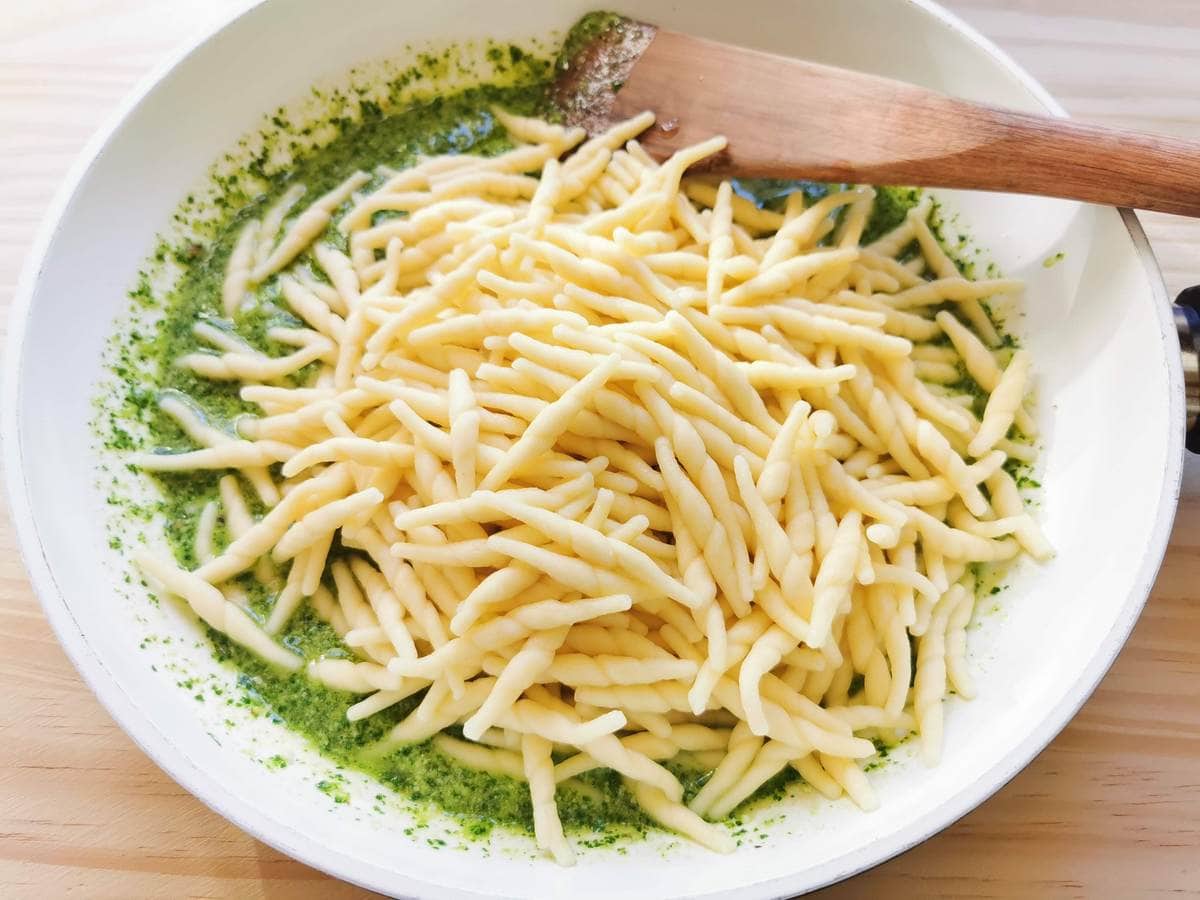 Trofie are short twisted spirals of pasta from Liguria, the Italian region which gave us the traditional basil pesto Genovese! This pasta pairs superbly with pesto because the sauce really adheres to the pasta. However trofie are not the only pasta Italians eat pesto with. Spaghetti is, of course, a popular choice but so too is fusilli, maccheroni, gnocchi, trenette, casarecce and mezze penne.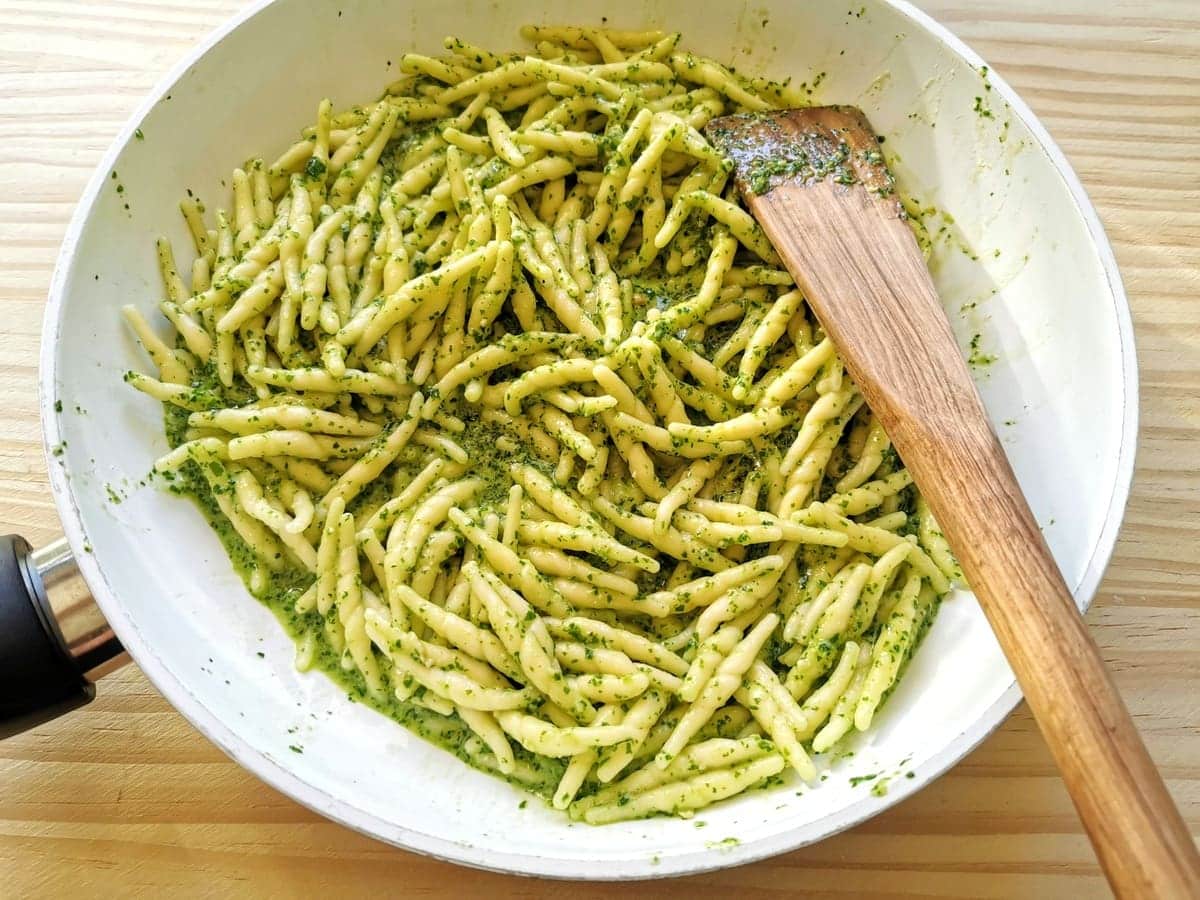 Which ever pasta you use, don't be afraid to make this rocket pesto yourself (the recipe is for either rocket or classic basil and pine nuts). It's easy peasy and nothing beats using fresh ingredients!
If you make this recipe, I'd love to hear how it turns out. Please write a comment here on the blog, email me or post a comment on the Pasta Project Facebook page.
Your feedback is really appreciated!
Buon Appetito!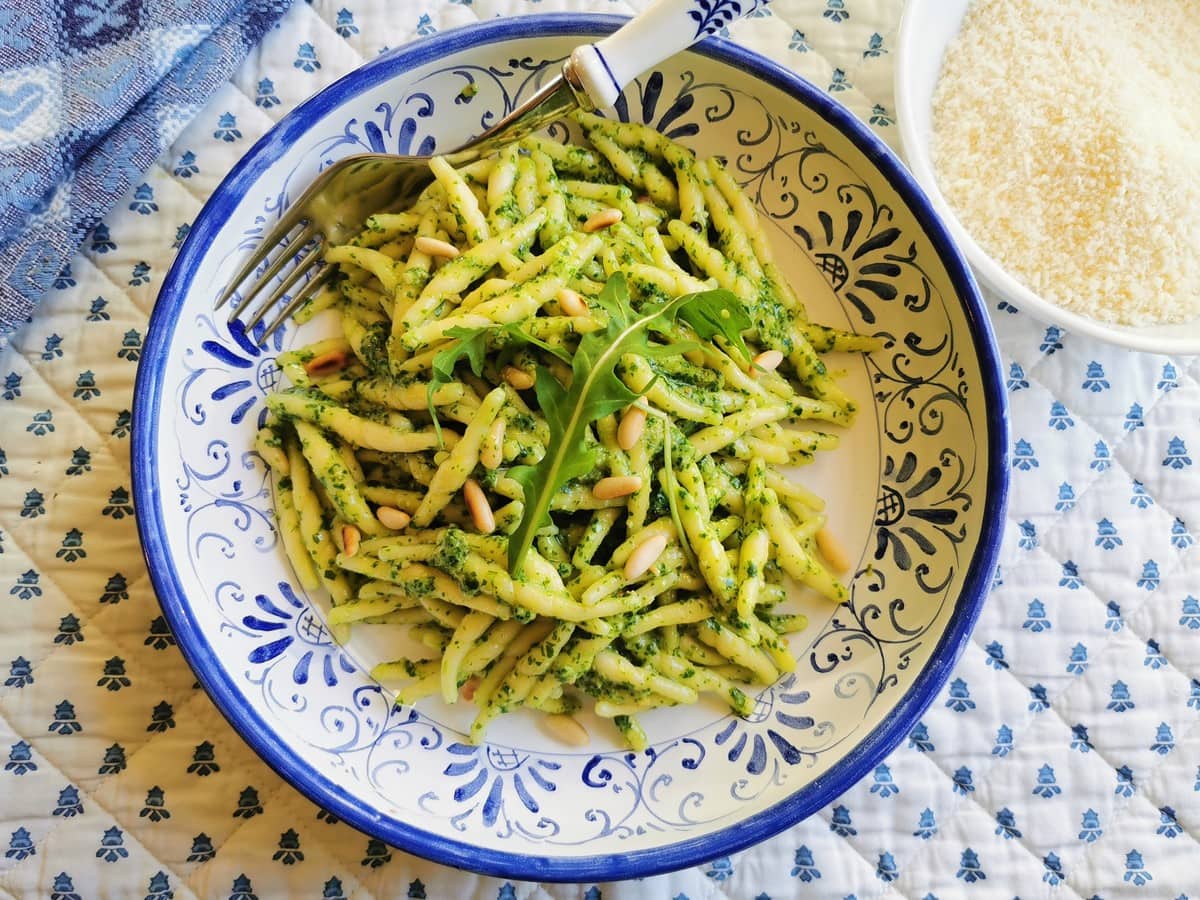 Other pesto recipes on The Pasta Project.
Busiate pasta with Trapanese pesto
Casarecce pasta with Sicilian pesto
Long fusilli with pesto Calabrese
Linguine with mint pesto and ricotta cream
Beetroot and radicchio pesto
---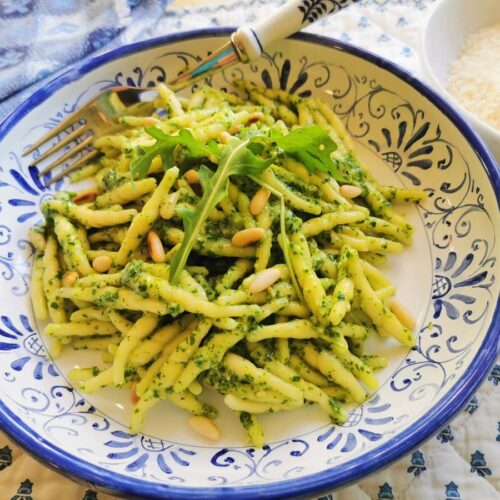 Print
Trofie with rocket (arugula) pesto
This easy pesto recipe can be used to make rocket (arugula) pesto or traditional basil pesto. Both are delicious served with trofie, the pasta typically used with pesto Genovese in Liguria.
Ingredients
4-6

cupfuls

washed rocket or basil leaves

you can also substitute half the leaves with spinach

1/2

cup

grana or parmigiano cheese

grated (vegetarians will need to use a vegetarian parmesan)

1-2

garlic cloves

peeled and chopped

1/2

cup

extra virgin olive oil

1/3

cup

toasted pine nuts

you can also use walnuts or almonds

salt and pepper to taste

400

g

trofie pasta (14oz)

trenette, fusilli, short maccheroni, gnocchi and spaghetti also go well
Instructions
Place the rocket or basil leaves into a food processor with the garlic and a little oil and pulse a few times.

Add the toasted pine nuts and grated cheese, season with pepper and salt as required and pulse one or twice again.

Remove from the food processor and more olive oil if necessary to get the consistency you require.

Put a pan of water on to boil for the pasta. Add salt once the water starts to boil (boiling the water whilst making the sauce will save time later).

When the water starts to boil again, add the pasta and cook al dente according to the instructions on the packet. (fresh pasta takes less time to cook than dried pasta)

Save a cup of pasta cooking water, drain the pasta and return to the pan. Add the pesto. Mix the pasta and pesto together. Add pasta cooking water if the sauce seems dry.

Alternatively, put the pesto in a deep frying pan, add some pasta cooking water to make it more liquid and then add the drained pasta. Mix the pasta and sauce together well and serve with extra grated cheese if desired.
Notes
You can mix ricotta into the pesto for a ravioli or cannelloni filling if you add enough ricotta.
I also sometimes add a handful of chopped cherry tomatoes. Just cut the tomatoes in half and add them to the blender with the nuts. Rocket pesto (or basil) can also be eaten as a dip, on toasted bread, as part of a pizza topping or dolloped on baked potatoes. All delicious ways to serve pesto.
You can keep the pesto in the fridge for up to a week if you keep it in a glass container with a lid and cover the surface with a thin layer of olive oil. (to prevent air getting to the leaves) You can also freeze it. 
To toast pine nuts, just dry fry them in a small frying pan for a couple of minutes. They brown quickly so keep an eye they don't burn.
SAVE THIS RECIPE FOR LATER?
If you want to save this recipe for later, you can print it, bookmark this page or save it to Pinterest.
If you are interested in learning how to make other homemade pasta and different types of gnocchi, check out my shop page for some great video online courses from my friends in Rome! Nothing beats learning to make pasta from Italians! Plus while you're there why not order a copy of one of my pasta recipe cookbooks or checkout some recommended pasta making tools? All great prezzies for pasta lovers!
---