In the world of Italian pasta, the island of Sardinia is pretty unique. There, you can find some very ancient types of pasta that you won't find anywhere else in Italy. Among the most well-known and most used Sardinian pasta types are fregola, malloreddus and lorighittas. These three are prominent in this collection of 12 Sardinian pasta recipes. Of course, you can use other types of pasta instead.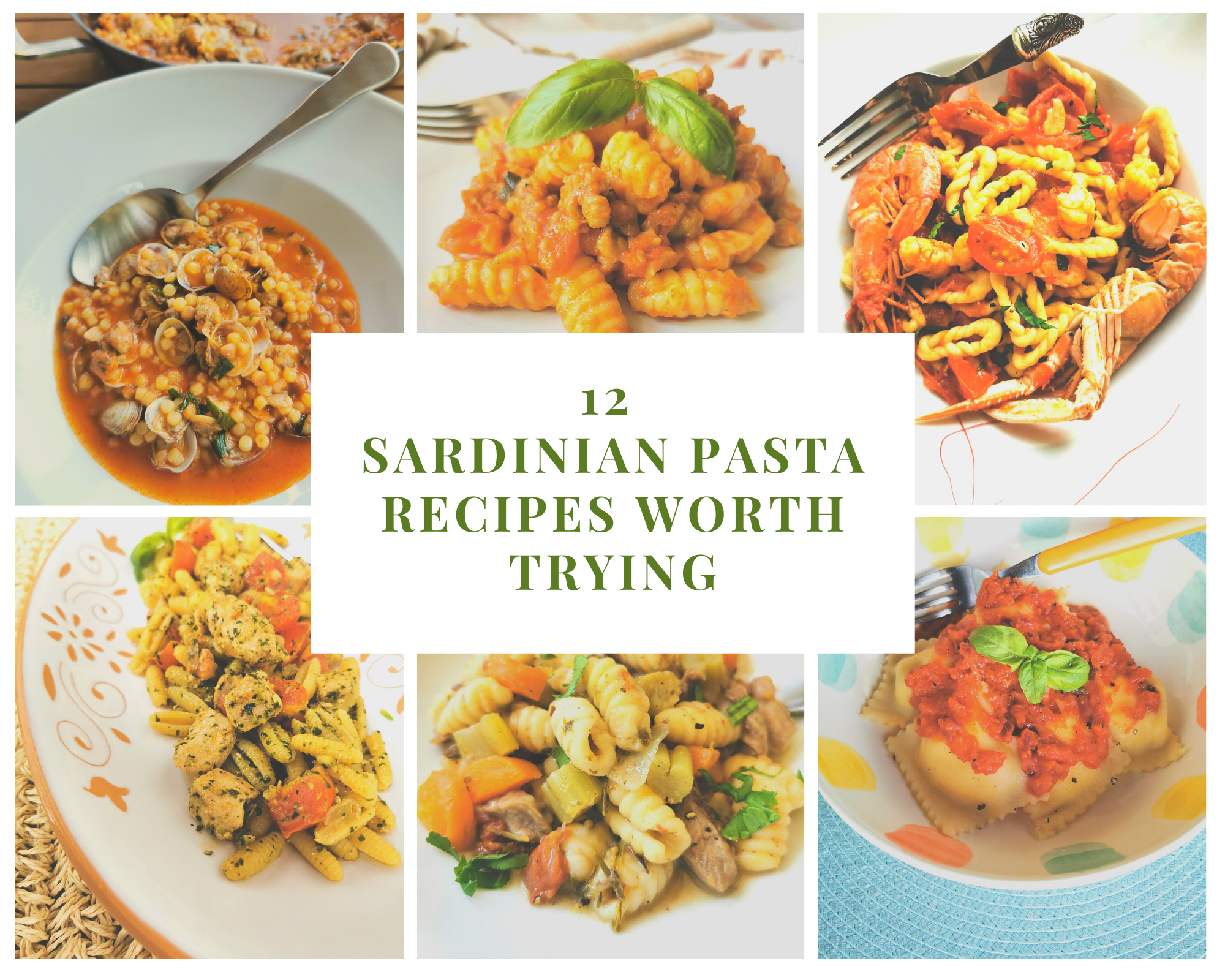 Until recently, Sardinian pasta shapes weren't even available to buy dried. However, some like malloreddus and fregola have gained popularity in different parts of Italy and abroad. So, a few pasta makers are producing and selling them. Then, of course, like the Sardinians, you can also try your hand at making the easier pasta types yourself at home.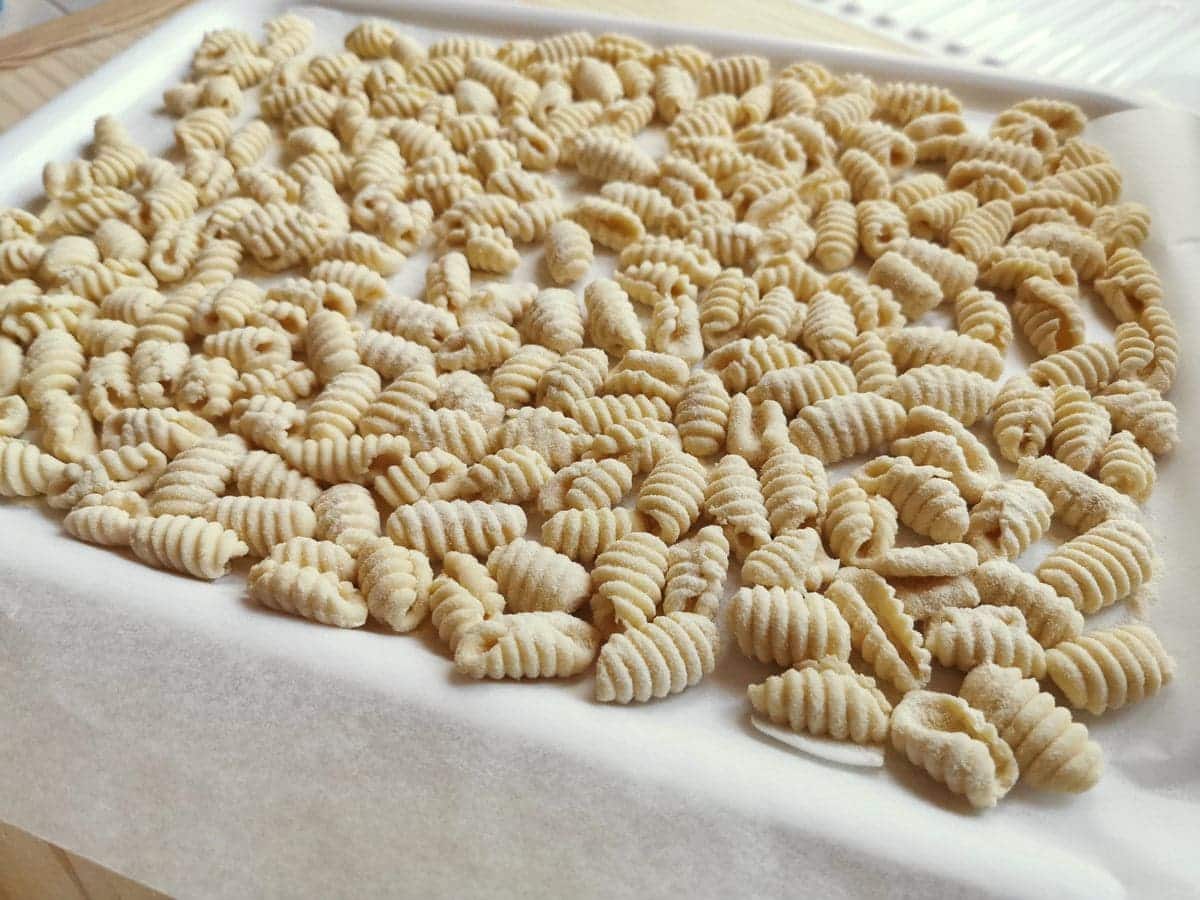 Sardinian pasta sauces.
The sauces that traditionally accompany pasta in Sardinia are based on local produce and products. Lamb and sausages feature a lot as does seafood and saffron, Sardinia being one of the three regions that grow the most saffron in Italy. The other two are Marche and Abruzzo. Most of Italy's pecorino Romano is made in Sardinia. In fact, Sardinia is home to about 3 million sheep. So, sheep cheese, particularly ricotta and pecorino, is also a traditional ingredient.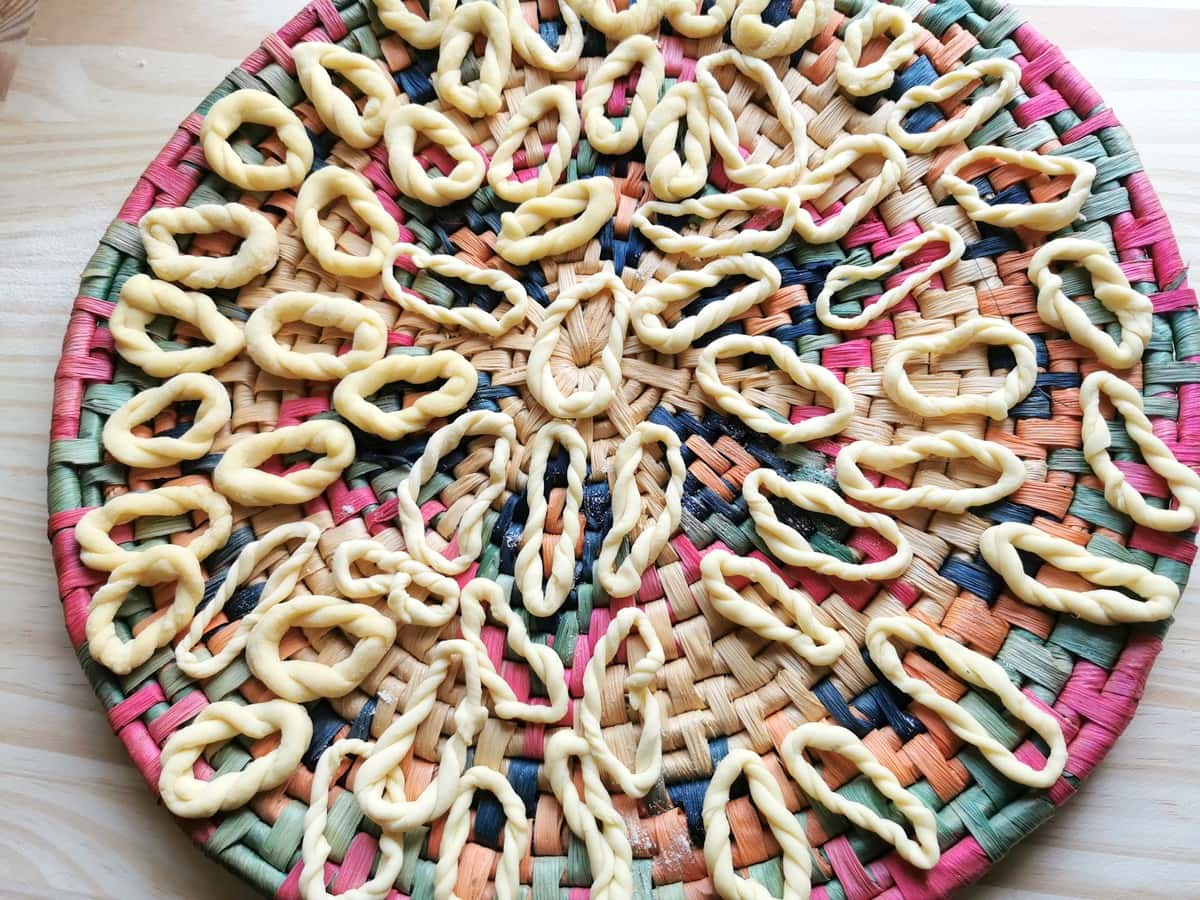 Luckily, most of the ingredients in these 12 Sardinian pasta recipes are available elsewhere. Well, if not exactly the same, certainly something very similar. This means that you can actually bring a taste of Sardinia to your table and enjoy some truly authentic dishes from the island.
Click the recipe name to go to the post.
Sardinian pasta recipes for pasta to make at home.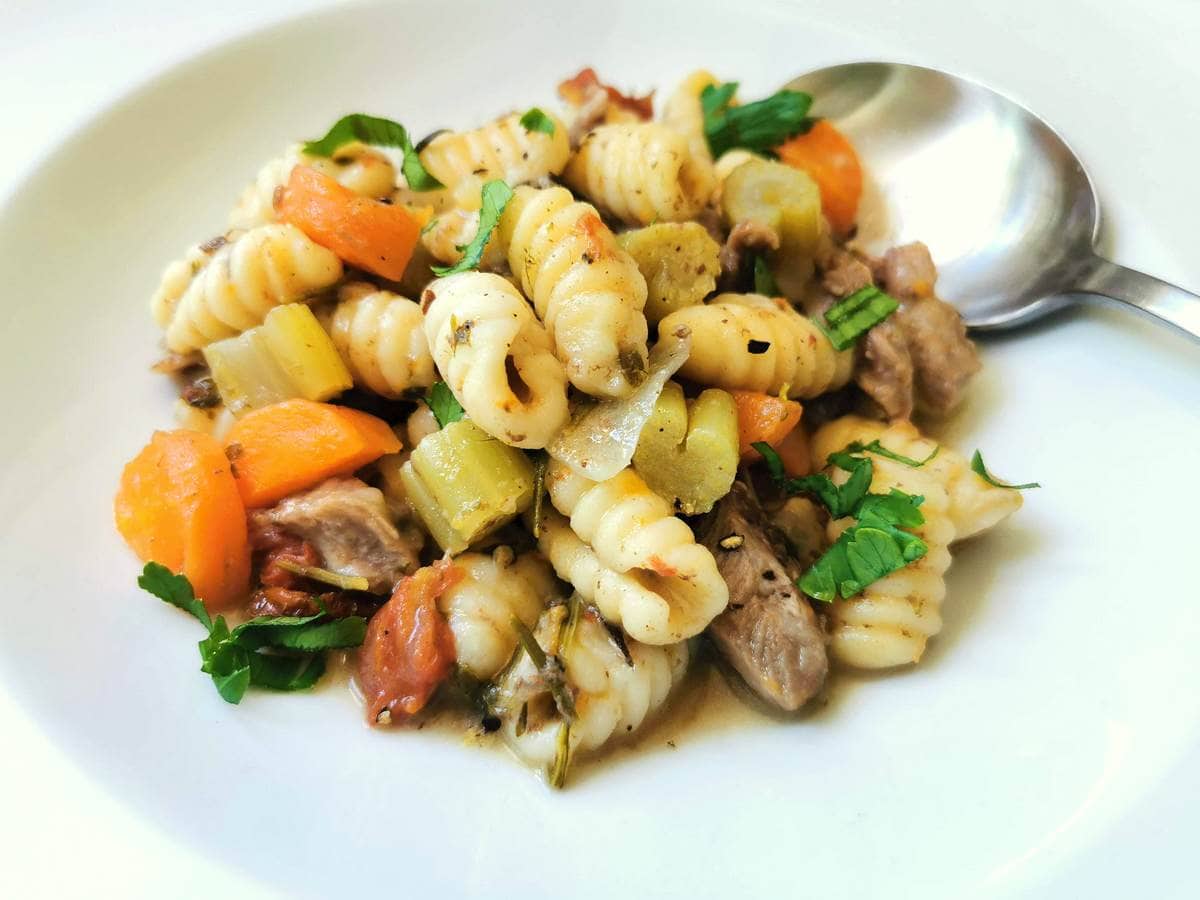 Homemade Sardinian gnocchi (malloreddus)
Malloreddus, also called Sardinian gnocchi, is pretty easy to make at home. In this recipe, the ready pasta is cooked and eaten in a delicious lamb broth. Of course, you can serve the pasta with other sauces. Typically, this would be a 2 in 1 recipe. Sardinians eat the pasta and broth as a first course and the meat and potatoes separately. However, you can eat it as a hearty and filling one plate meal too.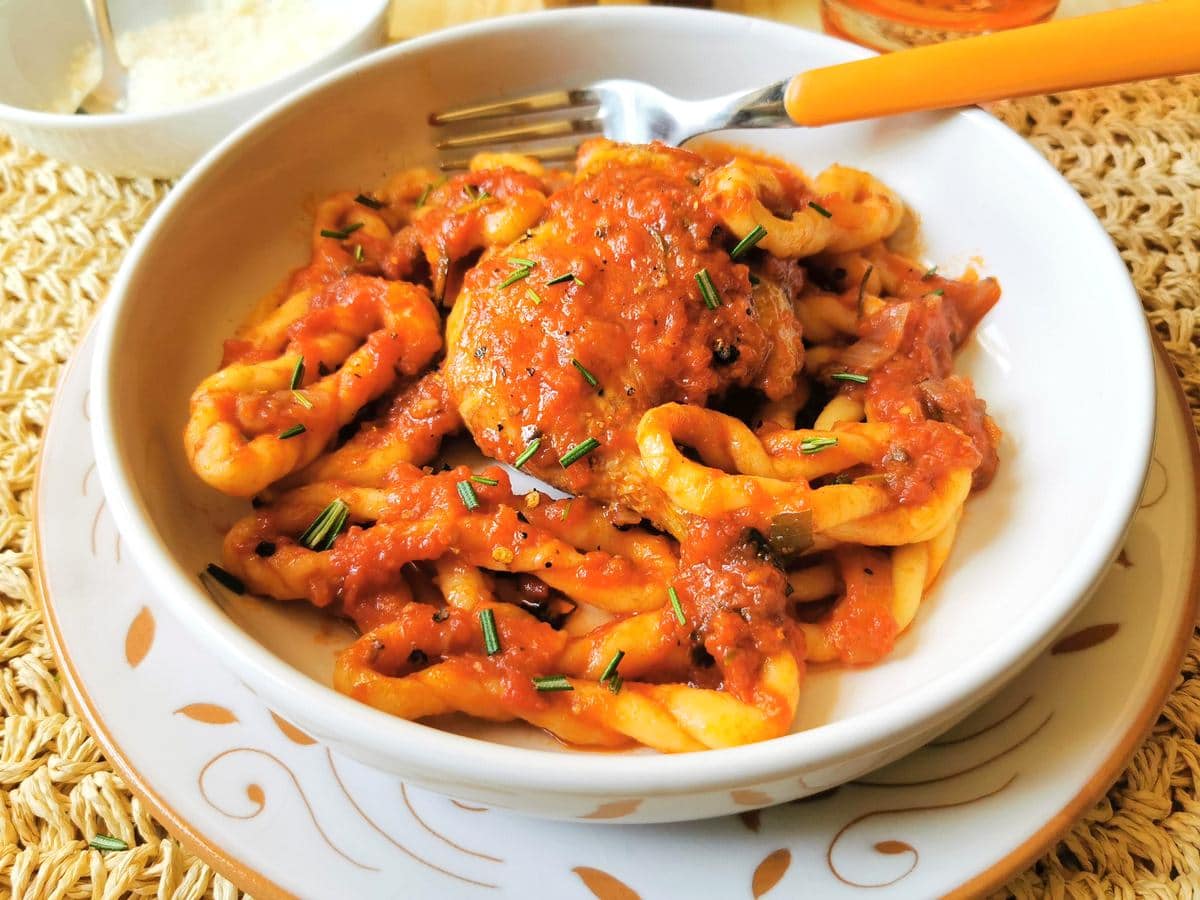 Homemade lorighittas with traditional chicken ragu.
Of all the types of pasta we have made ourselves, these homemade lorighittas are the most beautiful. This pasta has been made in Sardinia since the 16th century, making it even more special! We served our hand-braided pasta with chicken ragu. This is actually the most traditional condiment for it in Sardinia. Of course, you can use the ragu with other types of pasta instead.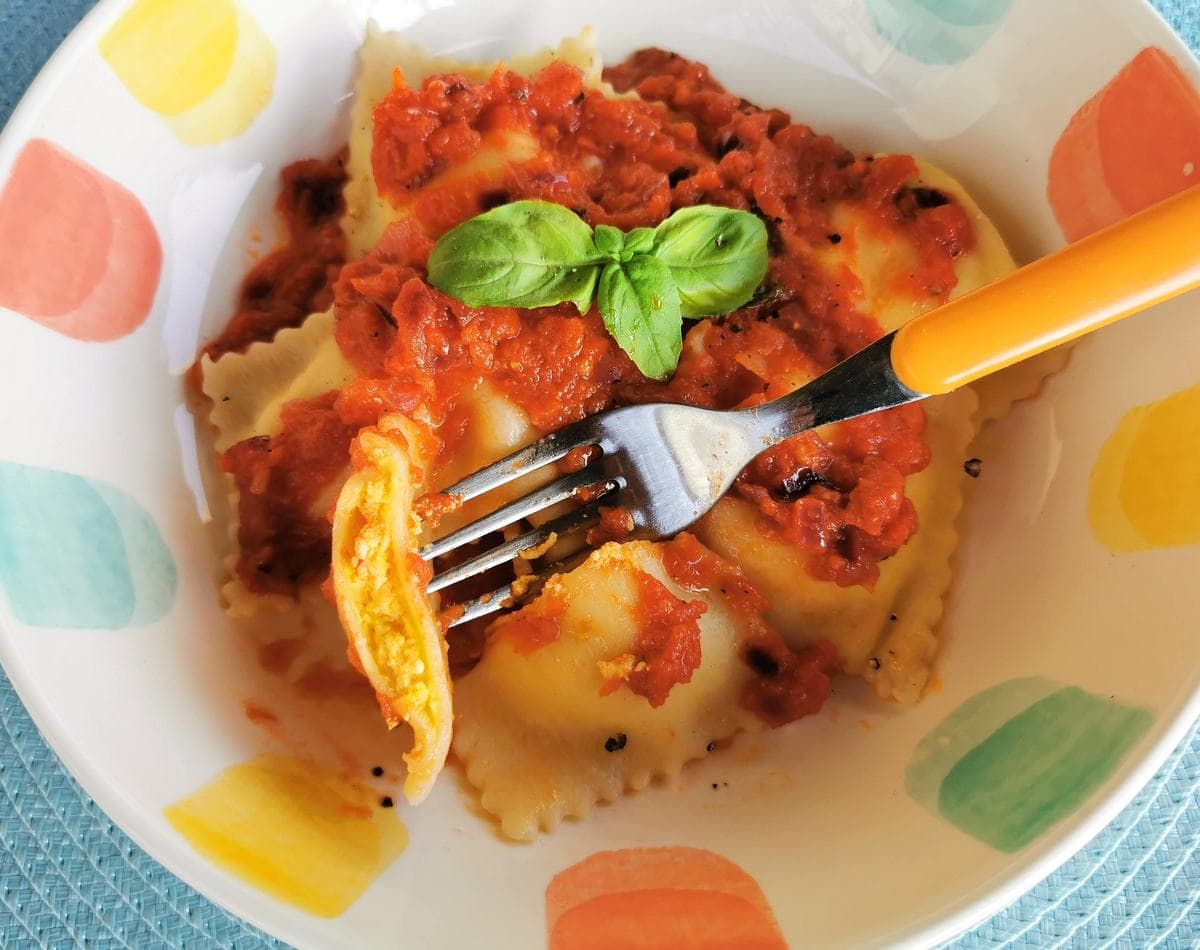 Homemade Sardinian ravioli with ricotta, saffron and lemon zest.
Known as cruxionis de arrascottu in the local dialect, these delicious, aromatic raviolis are filled with sheep ricotta, saffron and lemon zest. In comparison to many homemade filled pasta, this type of ravioli is quite simple to make. So, this recipe is great for first-time ravioli makers. Sardinian ricotta ravioli are traditional at Christmas and on other holidays!
Sardinian pasta recipes with seafood.
Malloreddus with tuna and pesto alla Carlofortina.
This malloreddus with fresh tuna and basil pesto recipe is a tasty authentic seafood recipe from the island of San Pietro, off the coast of Sardinia. This pasta dish is perfect for any occasion. You can also eat it as a pasta salad! Use canned tuna and ready-made pesto for a quick budget-friendly version!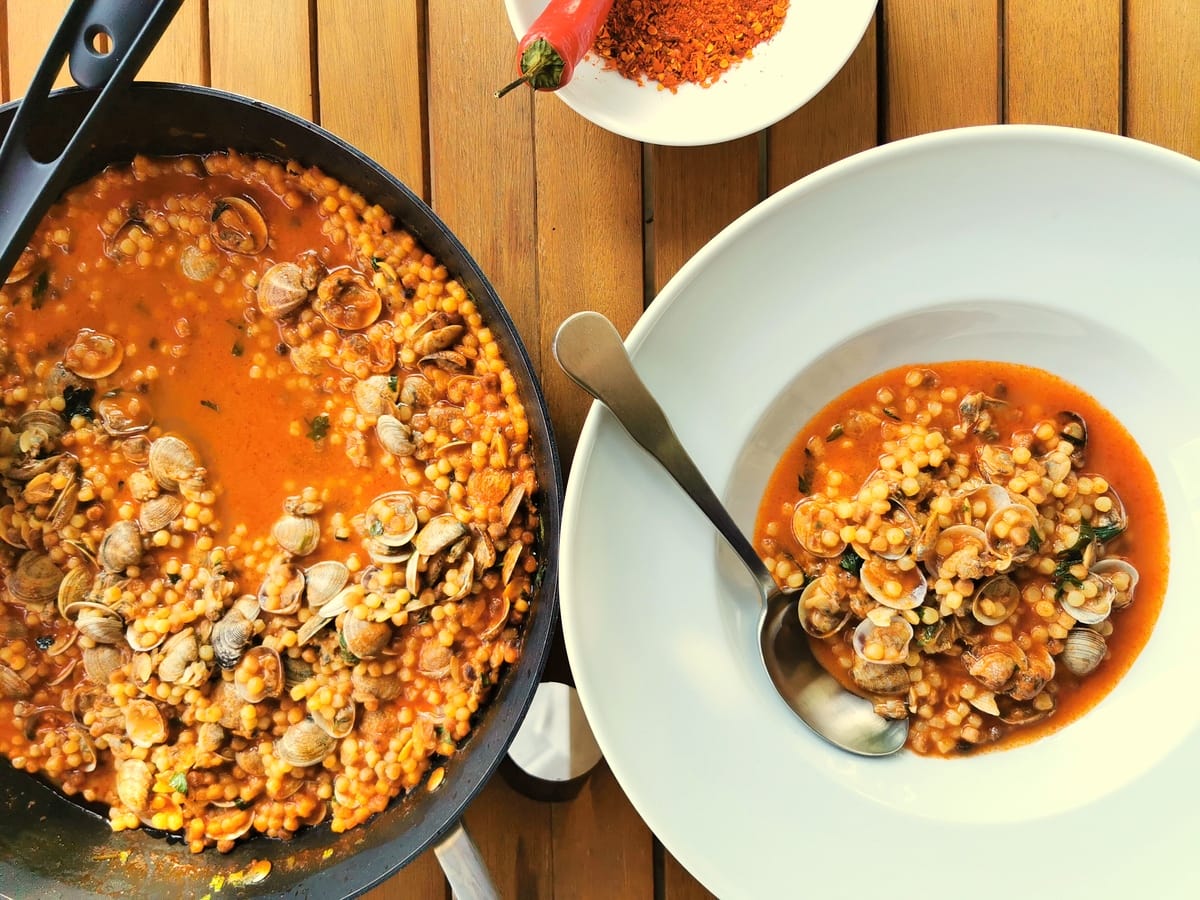 Fregola with clams.
If you have ever visited Sardinia, you may have tried this scrumptious seafood dish. Fregola (Sardinian couscous) with clams is probably the most well-known Sardinian seafood pasta recipe. It's also unique to the island, so not a dish you will come across anywhere else in Italy! However, it's easy to make at home and toasted fregola is now available in other countries. But, if you can't find it, try using Israeli couscous or malloreddus.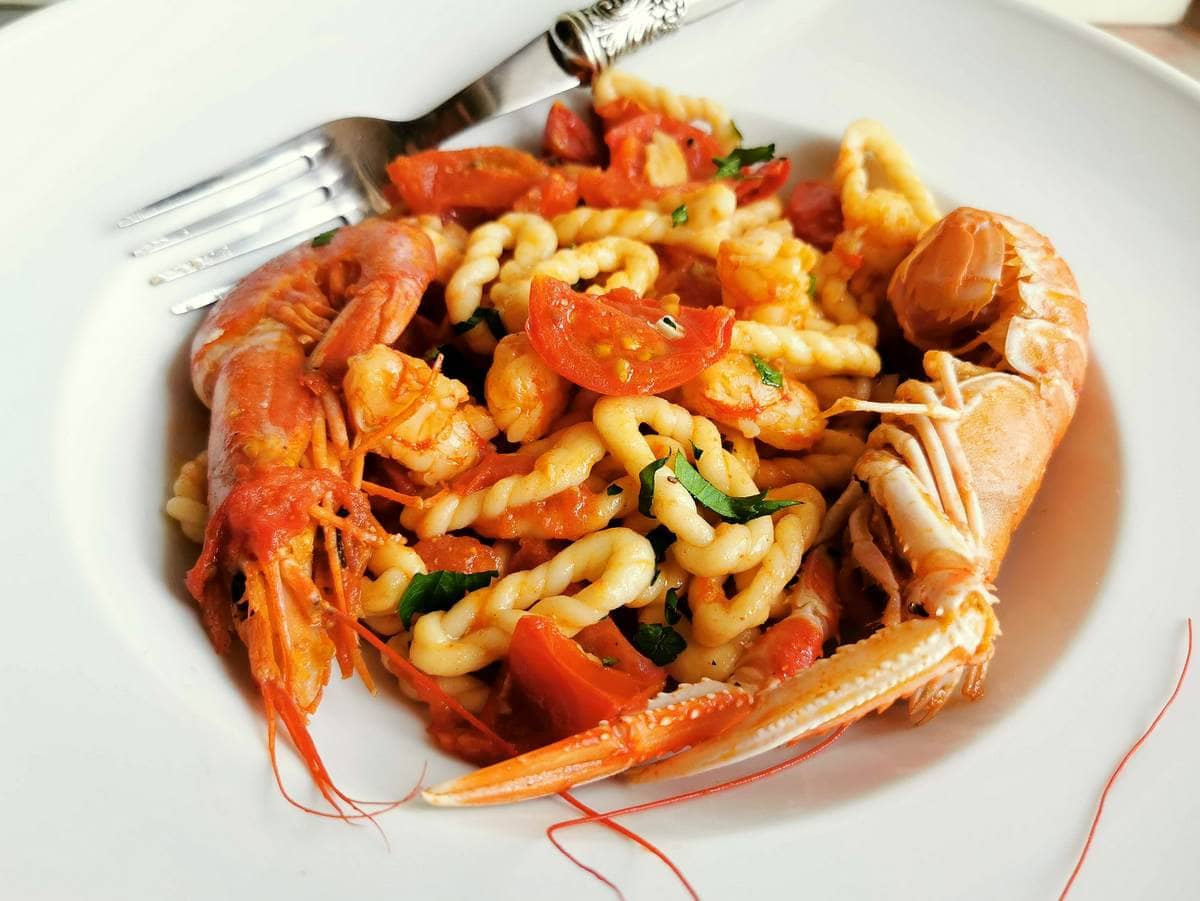 Lorighittas with prawns and scampi.
This Sardinian lorighittas with prawns and scampi is a restaurant-worthy Mediterranean seafood pasta dish. It is rather special because the only place you can have it made for you is the island of Sardinia! This is because lorighittas is a unique hand braided ancient Sardinian pasta. Of course, you can make this wonderful dish yourself using homemade or dried lorighittas or even another type of pasta.
Vegetarian Sardinian pasta recipes.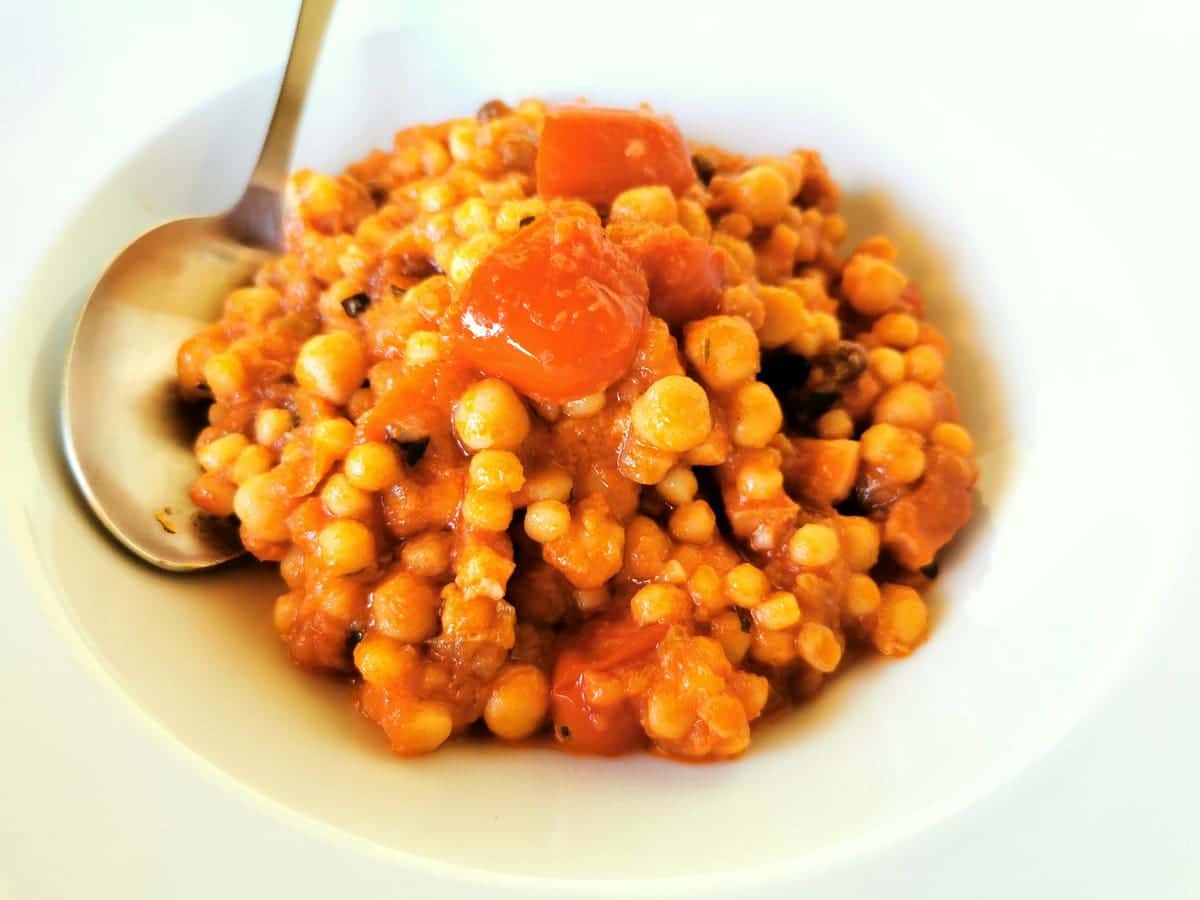 Fregola with chickpeas.
Sardinian fregola with chickpeas is a warming, nutritious and delicious slightly spicy vegetarian pasta soup. It's perfect as a cold weather meal. Add spinach for colour and more fibre, beans for more protein or pancetta/guanciale for a non-vegetarian version.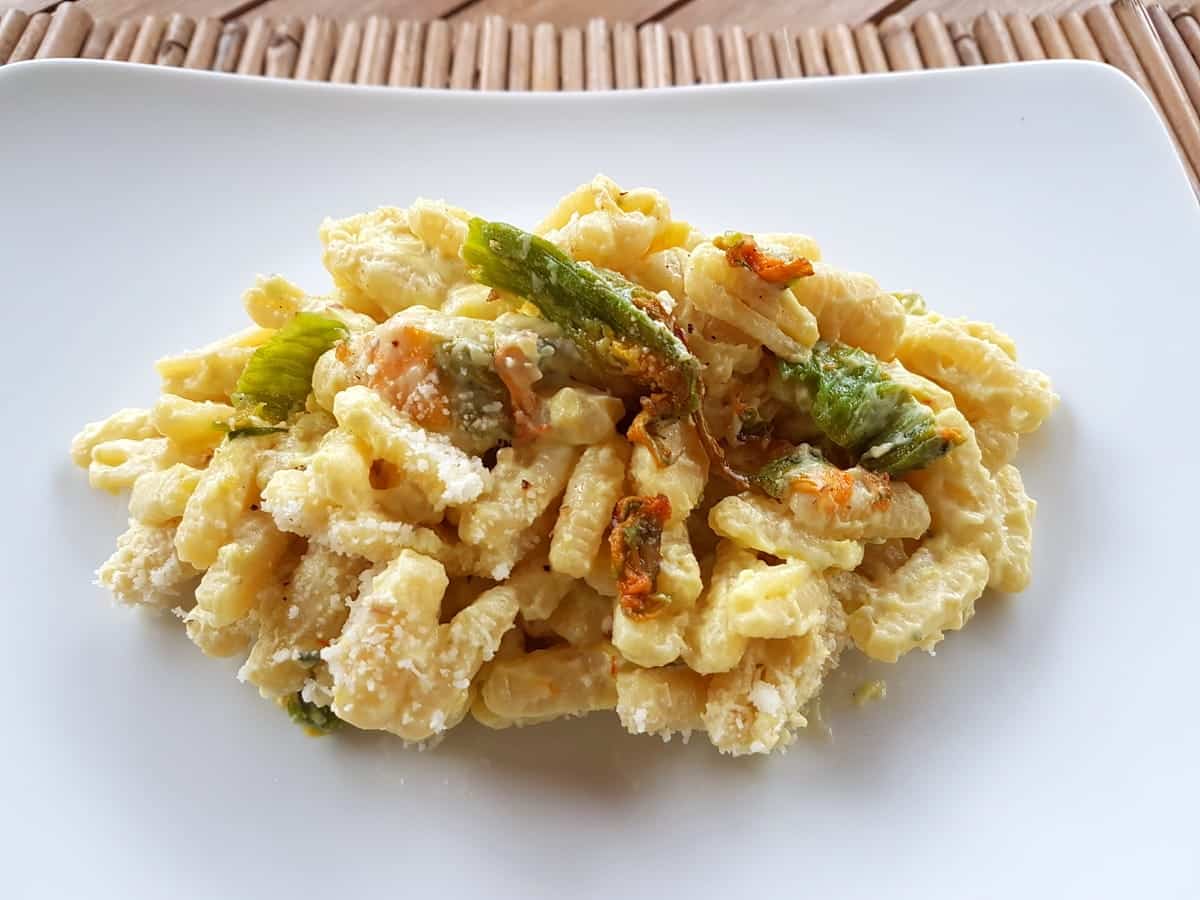 Malloreddus with ricotta, saffron and zucchini flowers.
Ricotta and saffron are two ingredients synonymous with Sardinian cuisine. Sardinians pair them together with delicious results like in this malloreddus recipe. A delicate pasta dish you are sure to fall in love with!
Sardinian pasta recipes with meat (mostly lamb but sub with tender cuts of pork or beef, if you prefer).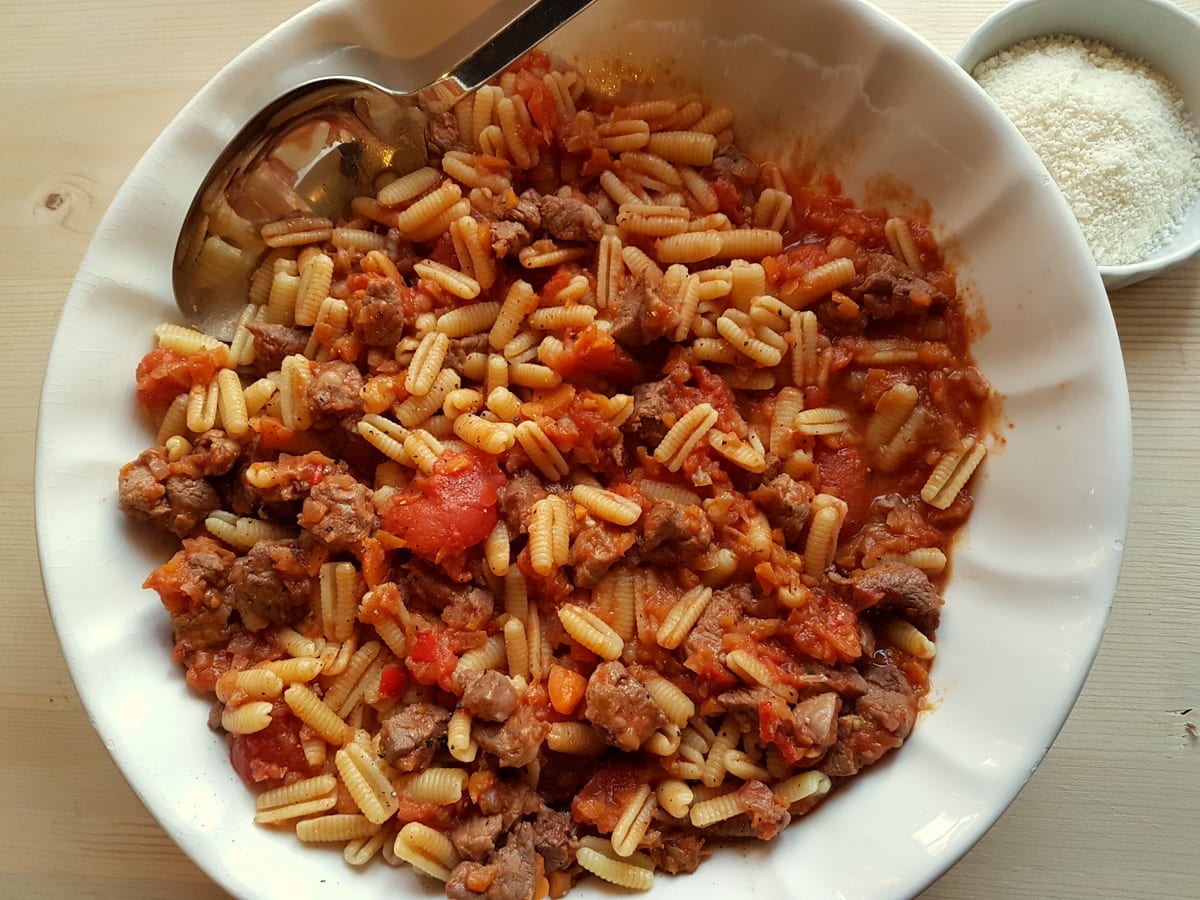 Malloreddus with lamb ragu.
Lamb is probably the most eaten red meat in Sardinia. In fact, sheep farming has been an important agricultural activity there for thousands of years. The islanders have many ways of cooking lamb as well as recipes that pair it with pasta. This delicious pasta and lamb dish is bound to be a winner with lamb lovers. It's rich and flavourful and not that difficult to make. If you don't have malloreddus, use a similar pasta like radiatori or even fusilli.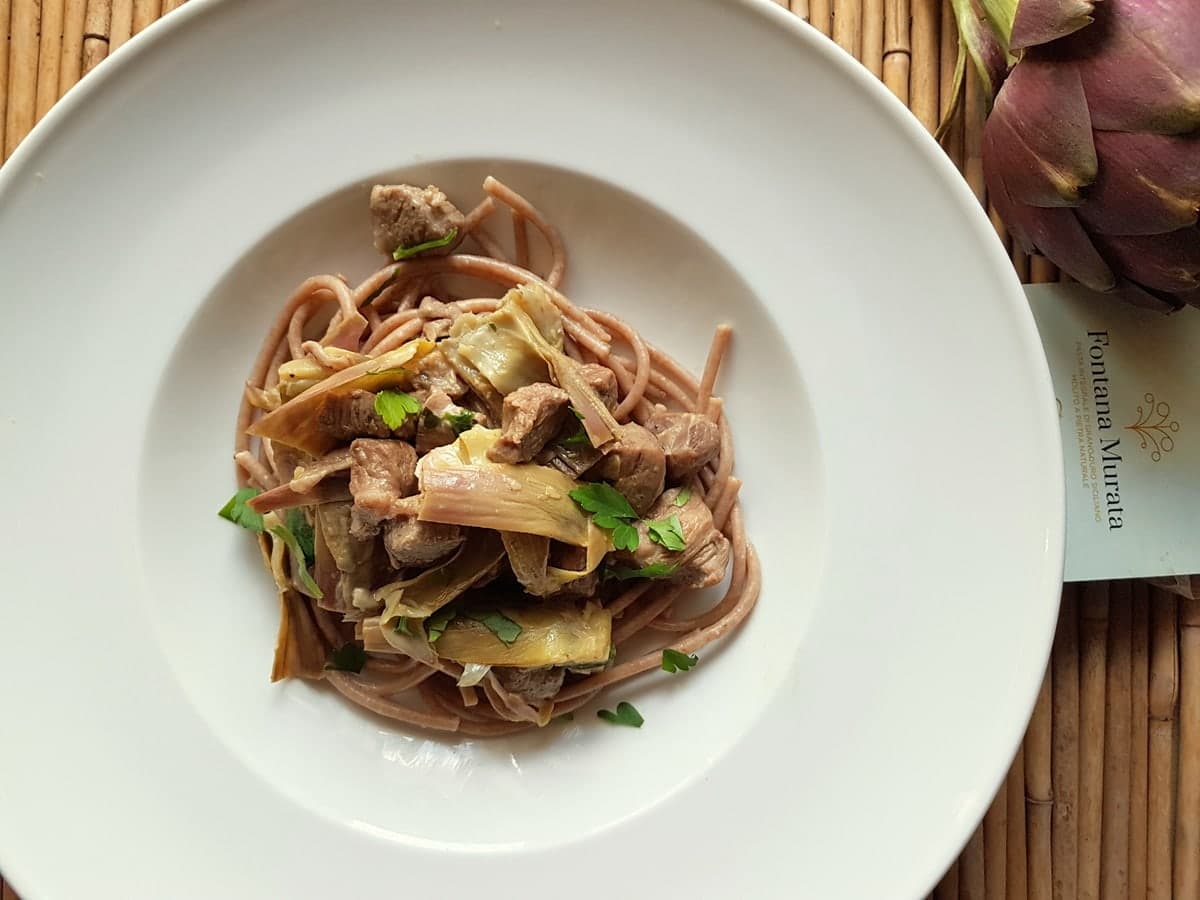 Wholewheat pasta with lamb and artichokes.
Sardinia is also famous for its artichokes, which the Sardinians often pair with lamb, particularly at Easter. This mouth-watering recipe for lamb and artichokes with pasta is perfect for family occasions. It's pretty easy to make and full of authentic Sardinian flavours.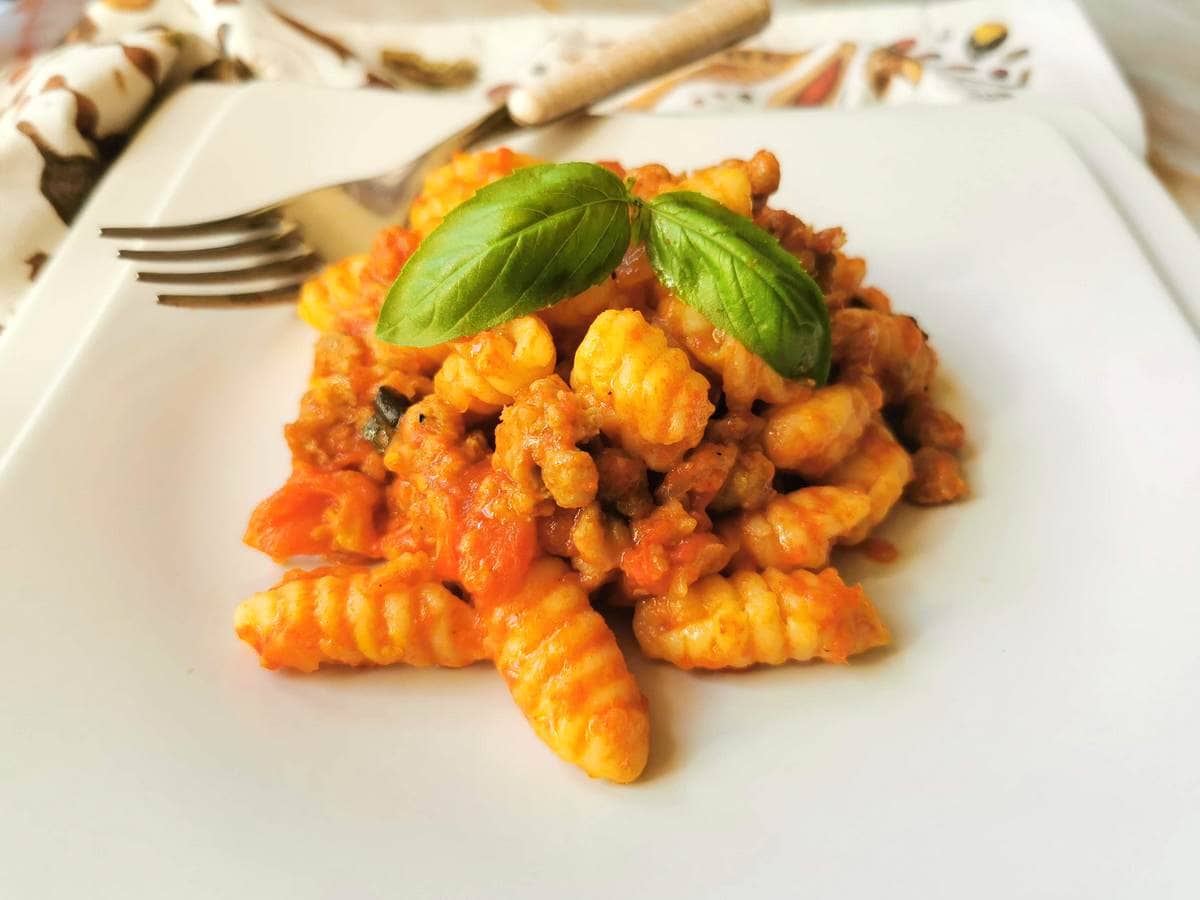 Malloreddus alla Campidanese with sausage, saffron and tomatoes.
Malloreddus with sausage, tomatoes and saffron alla Campidanese is probably the most well-known way to serve Sardinian pasta gnocchi. This dish is traditional in Sardinia on special occasions and holidays. Plus, you can find it on the menu in many restaurants on the island. Fast and easy to make, this recipe is also great with other types of pasta such as radiatori or fusilli.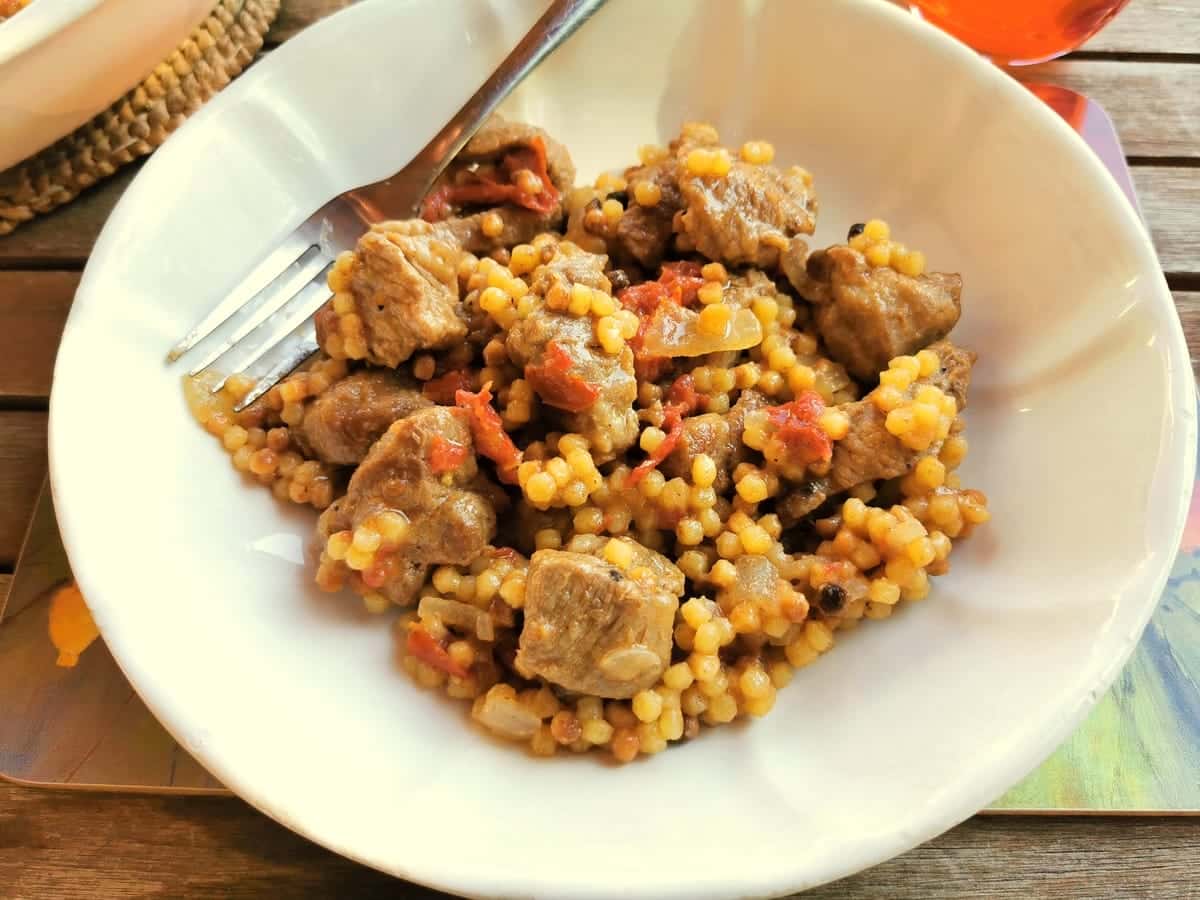 Fregola with lamb.
Fregola with lamb reminds me a little of North African couscous with lamb. However, in this traditional Sardinian pasta recipe, the lamb is cooked very simply without any spices or strong seasoning. Some people add tomato passata to this dish. However, I used just sun-dried tomatoes but I'm sure it's good with passata too!
Let me know what you think.
If you do try any of these 12 Sardinian pasta recipes, I'd love to hear what you think. Please write a comment here on the blog or post a comment on the Pasta Project Facebook page.
Your feedback means a lot to me!
Buon Appetito!
SAVE THIS POST FOR LATER IN PINTEREST.
Want to know more about my life in Italy? Why not subscribe to my newsletter? New subscribers get a whole series of free recipe e-books too!
The post 12 Sardinian Pasta Recipes Worth Trying. appeared first on The Pasta Project.