Malloreddus alla Campidanese.
Sadly I have never been to Sardinia! It's on my bucket list. However, I've recently been making a number of Sardinian pasta recipes. This week I brought a little Sardinian touch to my kitchen with this Sardinian gnocchi-malloreddus with sausage recipe. In Italian, it's known as 'alla Campidanese' after the Sardinian province of Campidano, where it originally comes from.
What is malloreddus pasta?
Malloreddus, also called gnocchetti sardi or 'little Sardinian gnocchi' is a typical pasta from Sardinia. Many Italians call it Sardinian gnocchi because of the shape. It really looks like tiny potato gnocchi. But it is actually a pasta made of durum wheat semolina flour, water and salt. However, the same technique to make it is the same as gnocchi.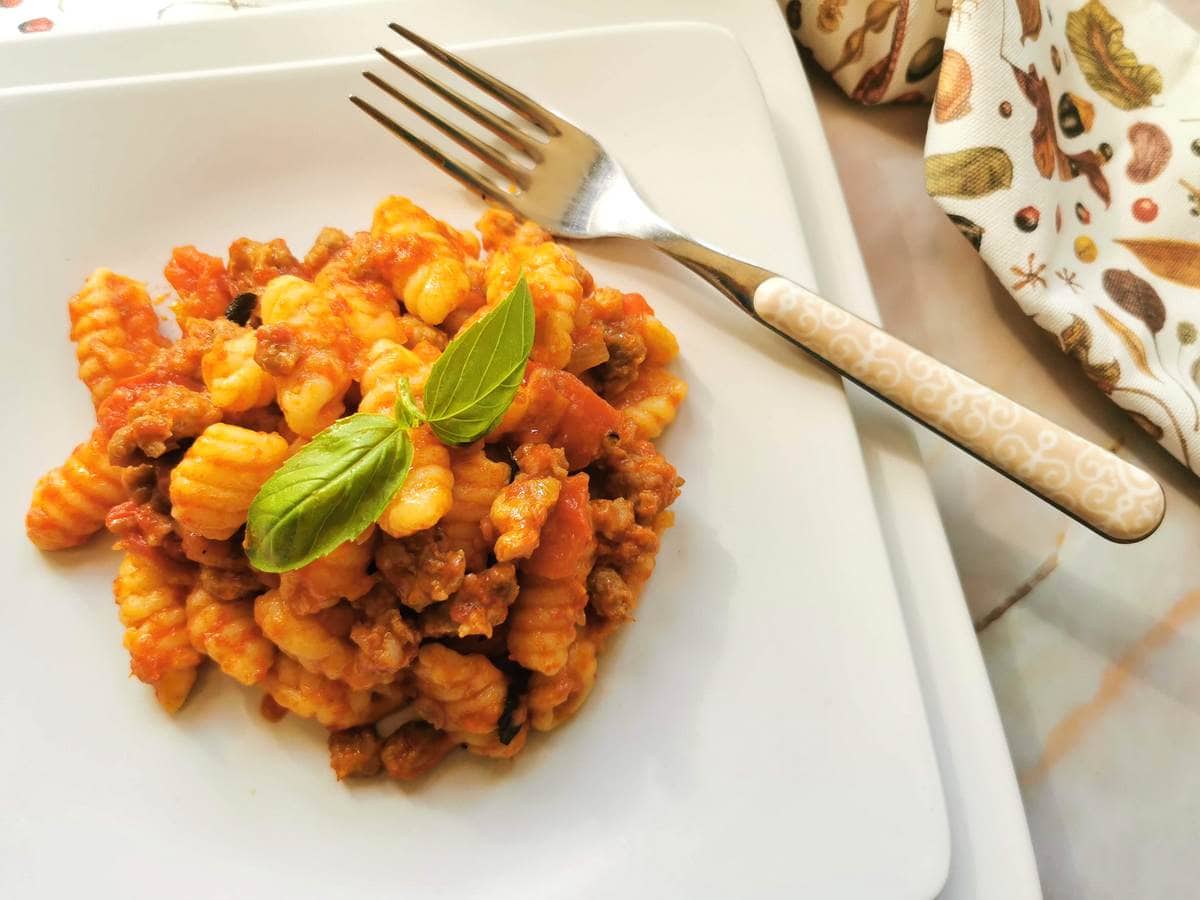 When homemade, malloreddus sometimes has a pinch of ground saffron in the dough which gives the pasta gnocchi a slightly yellow colour. To get the characteristic shape, Sardinians traditionally hand-roll the pieces of dough on a round reed basket. However, nowadays most people use a small wooden board that is very similar to a gnocchi board, which you can also use instead. I do! You can read more about this Sardinain pasta on my malloreddus post.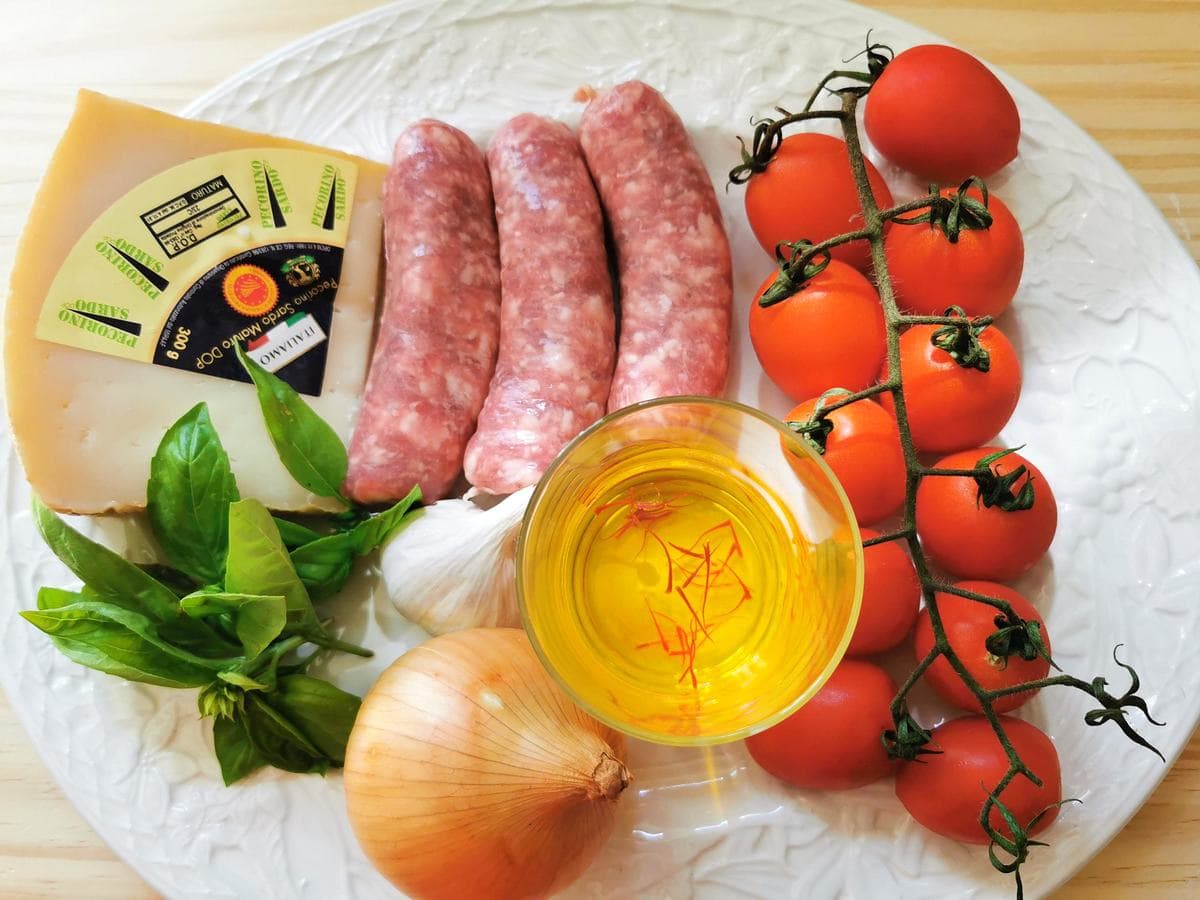 What are the ingredients for alla campidanese sauce?
This malloreddus with sausage, tomatoes and saffron alla campidanese recipe is probably the most well-known way to serve these Sardinian pasta gnocchi. It's traditional in Sardinia on special occasions and holidays. Plus, you can find it on the menu in many restaurants on the island.
It's made with delicious pork sausage usually seasoned with fennel, saffron and fresh tomatoes . If you can't find sausages with fennel, you can also add crushed fennel seeds to the sauce to give it a similar flavour. Alternatively, leave the fennel out if you don't like it or don't have it.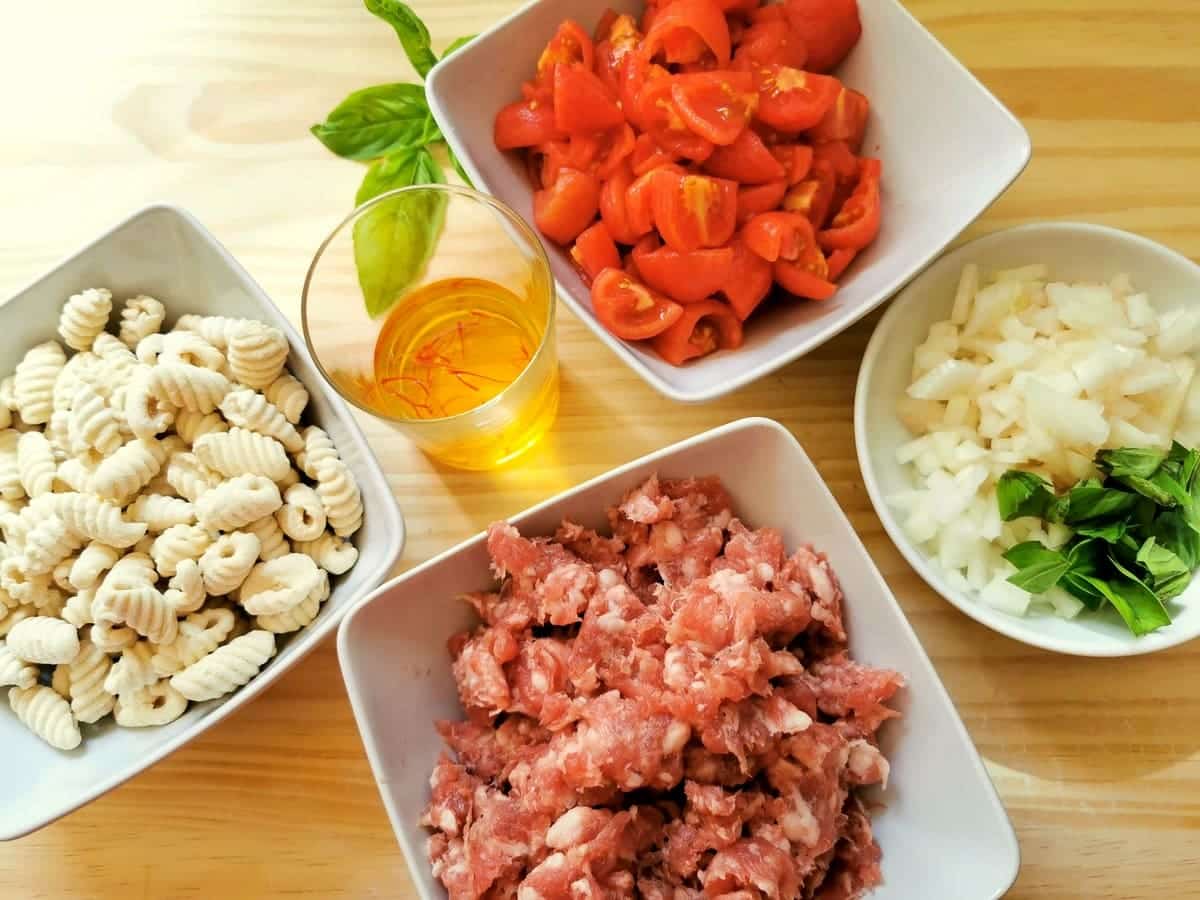 Of course, in Sardinia, the sausages, tomatoes and saffron are all local produce. I'm sure that, as with many Italian recipes, the dish eaten in the region in which it is traditional may well taste a little different to the same dish made with ingredients from other places.
Although I live in Italy, apart from the Sardinian gnocchi which are available throughout Italy, I couldn't find Sardinian sausages, tomatoes or saffron. But, the ingredients I used were fresh and produced in Italy, plus I made the pasta myself. The result was really good and I will definitely be making this malloreddus with sausage recipe again. I'm sure that the same is true of making this dish outside of Italy. If you can't find Italian ingredients just go with what you can find. You'll love it just the same!
Dried or homemade Sardinian Gnocchi?
I have made this recipe with both dried and homemade malloreddus. This time, I used homemade pasta that I had in the freezer. It was actually the first time I've used frozen homemade pasta. It was perfect. You can hardly tell the difference. So now, when I have time, I'm planning to make more Sardinian gnocchi to freeze. I think it's so cool to serve it to guests and be able to tell them you made it yourself!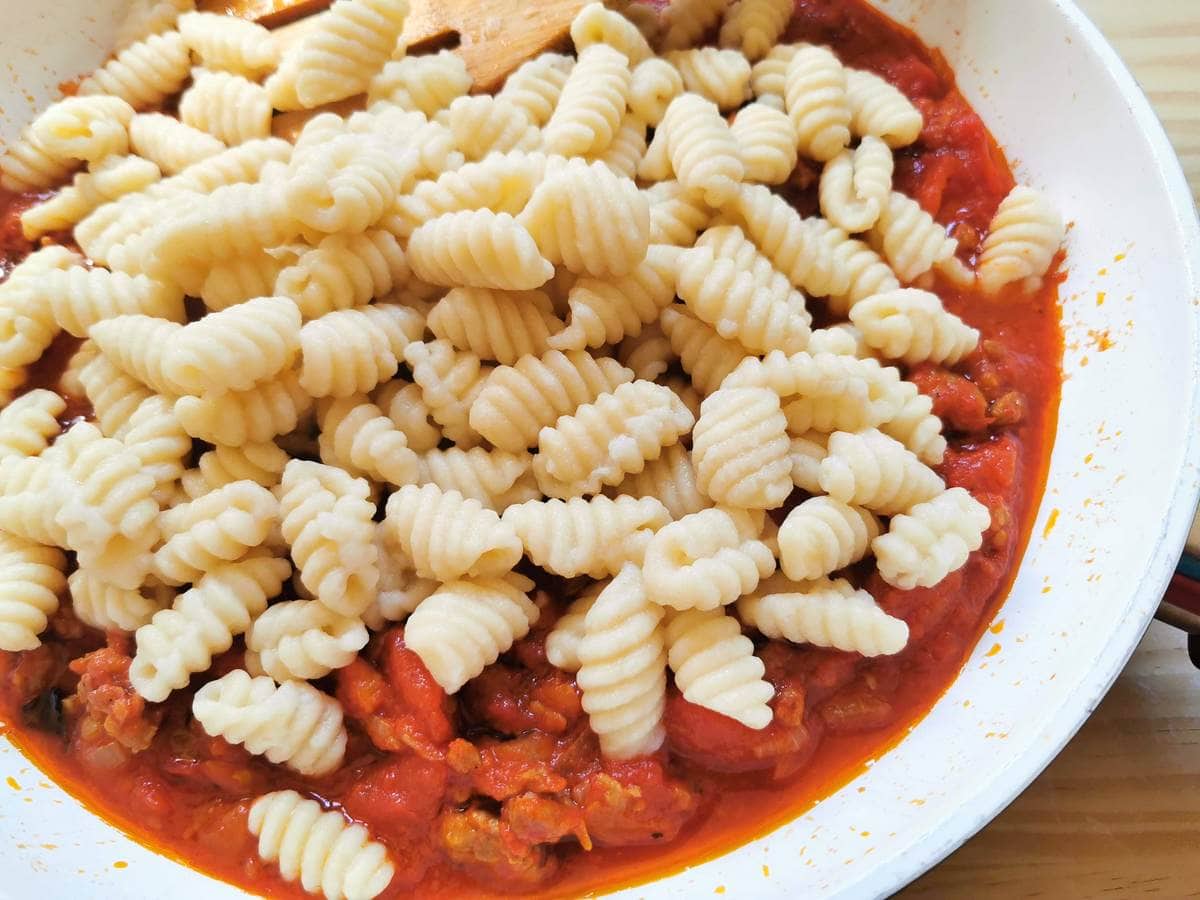 Making your own Sardinian gnocchi is actually pretty easy. If you want to give it a try check out my homemade malloreddus with lamb broth recipe. You can use the pasta with any sauce instead of the lamb broth. In Sardinia, some people cook malloreddus in broth instead of water, but drain it and serve with this sausage sauce or another.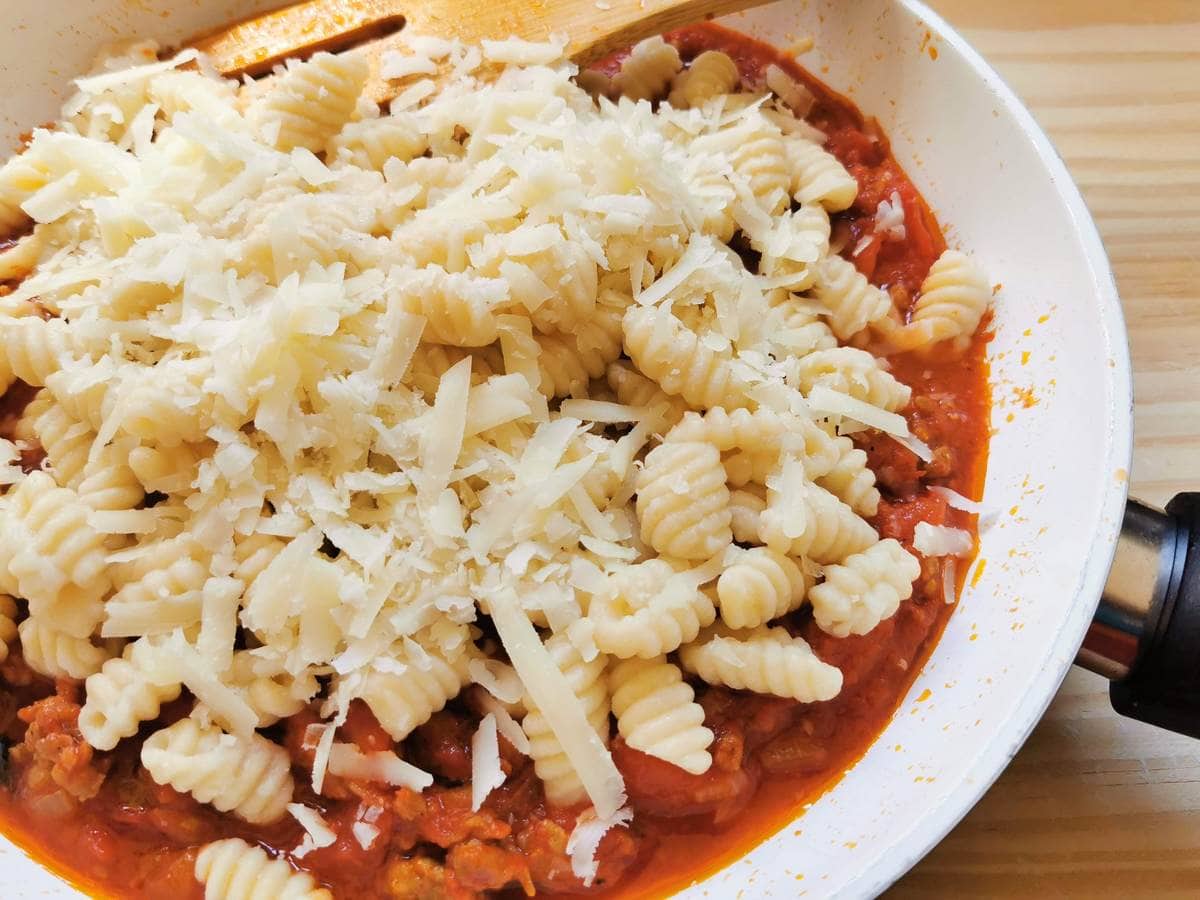 Dried Sardinian gnocchi are available outside of Italy. I think Rummo is one of the most popular and easily available brands. I often use it myself.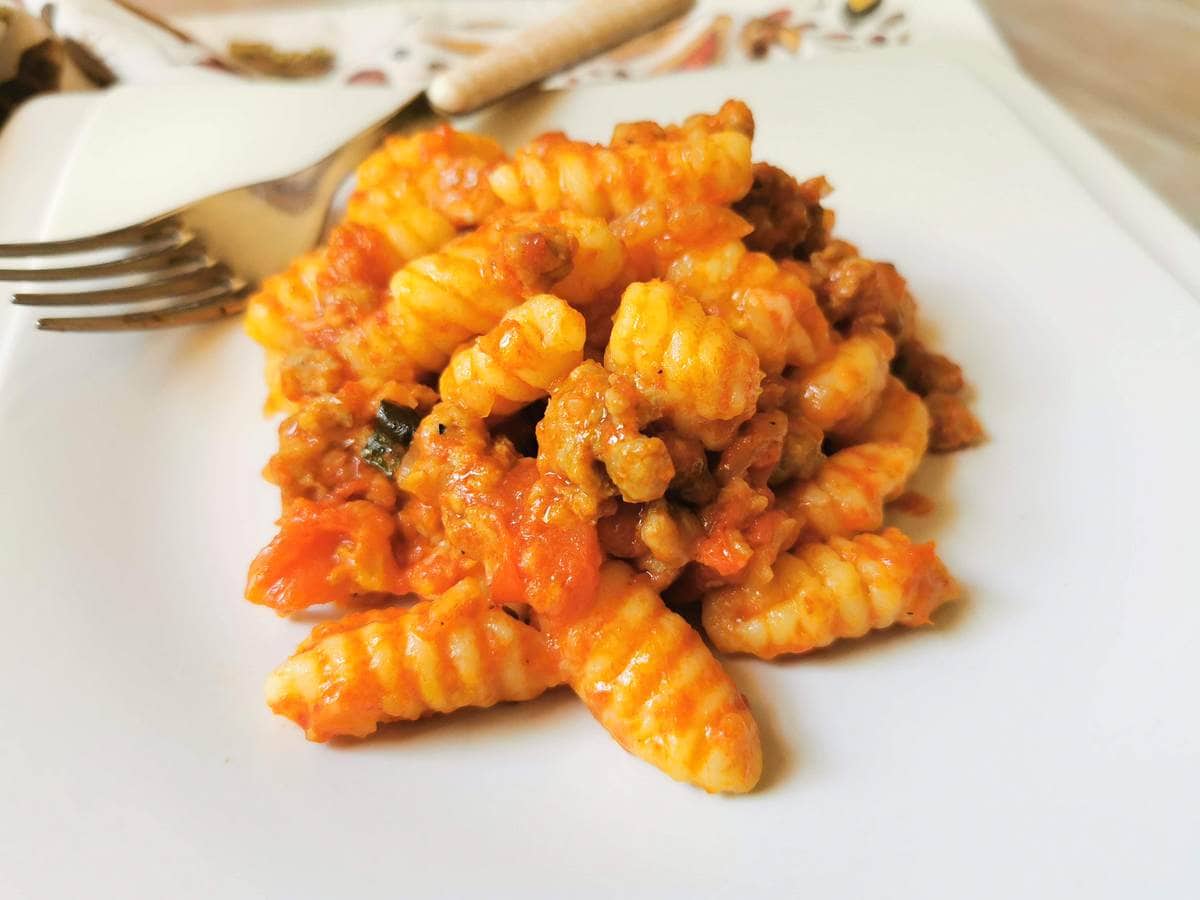 Let me know what you think.
If you try this Sardinian gnocchi-malloreddus alla campidanese recipe, do please let me know what you think by commenting here on the blog or on The Pasta Project Facebook page. Your feedback is much appreciated!
Buon Appetito!
This recipe was first published in 2017 but has been updated with new text and photos.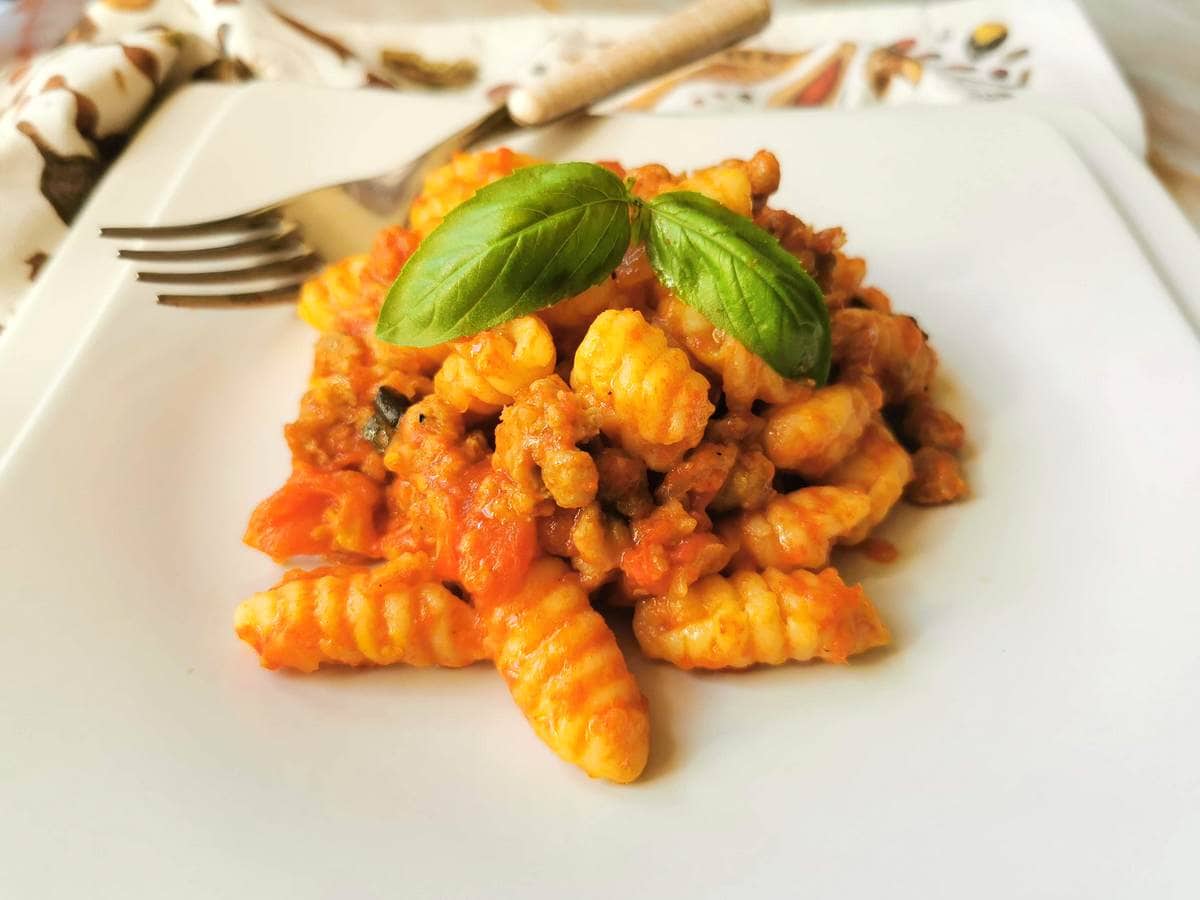 Other recipes from Sardinia to try.
Lorighittas with scampi and prawns
Sardinian ravioli with ricotta and saffron
Fregola with clams
Other sausage pasta recipes to try.
Sausage rigatoni alla zozzona from Rome
Pasta alla Norcina from Umbria
Sicilian broccoli pasta with sausage and chard
Want to save this recipe for later?
You can bookmark this page, print this recipe or pin it for later.
Want to know more about my life in Italy? Why not subscribe to my newsletter? New subscribers get a free series of recipe e-books too!
Print
Malloreddus (Sardinian gnocchi) alla campidanese with sausage, tomato and saffron
This malloreddus with sausage, tomatoes and saffron alla campidanese recipe is probably the most well-known way to serve these Sardinian pasta gnocchi. It's traditional in Sardinia on special occasions and holidays. Plus, you can find it on the menu in many restaurants on the island. Fast and easy to make this dish is full of authentic Sardinian flavour!
Ingredients
400

g

Sardinian gnocchi – Malloreddus (14 oz)

Dried or homemade

500

g

fresh pork sausage (1.1lbs)

500

g

fresh tomatoes (1.1lbs)

( I used large datterini) or passata or half fresh tomatoes and half passata

100

g

Pecorino cheese (3.5oz)

freshly grated Pecorino Romano or Sardo

1/2

tsp

saffron threads or 1 sachet saffron powder

1

onion

peeled and finely chopped

1

garlic clove

peeled

1

handful

fresh basil leaves

broken into pieces (torn)

2-3

tbsp

extra virgin olive oil

salt

for pasta and to taste

black pepper

to taste

1

tsp

fennel seeds

(optional)
Instructions
Finely chop the onion and garlic. Remove the sausage meat from its casing and crumble into small pieces. Peel the tomatoes after blanching them in hot water and cut them into halves or quarters depending on their size. Tear the basil leaves into small pieces. If using saffron threads soak them in a small glass of warm water for 15-30 minutes first.

Fry the finely chopped onion and the garlic in a little olive oil until the onion starts to soften. Then add the sausage meat and brown it a little. Add the fennel seeds if using.

Add the pieces of tomato and 2/3 of the basil. Let the tomatoes start to soften then add the passata if using and the saffron with its water. (if you are using saffron powder then add a small glass of water and the saffron separately)

Stir everything together well, add salt and pepper to taste and turn the heat to low. Simmer for about 30 minutes to 1 hour.

When the sauce is half way done, put a pan of water on to boil for the pasta. Add salt once the water starts to boil. Bring to the boil again.

Cook the pasta al dente according to the instructions on the packet. (fresh pasta cooks faster that dried) save some of the cooking water and drain the pasta.

Mix the Malloreddus with the sauce and some of the grated pecorino. If the sauce seems too dry add some of the pasta cooking water and stir well.

Serve immediately with a sprinkling of chopped basil and some extra grated cheese as required.
Notes
If you can't find sausages with fennel you can also add crushed fennel seeds to the sauce to give it a similar flavour.
If finding Sardinian gnocchi is a problem, you can also use cavatelli or casarecce which are very similar, or a small pasta tube such as elbow pasta.
If you are interested in learning how to make homemade pasta and different types of gnocchi, check out my shop page for some great video online courses from my friends in Rome! Nothing beats learning to make pasta from Italians! Plus while you're there why not order a copy of one of my pasta recipe cookbooks or checkout some recommended pasta making tools?
The post Sardinian Gnocchi-Malloreddus with sausage, tomatoes & saffron. appeared first on The Pasta Project.