If you like creamy mac and cheese, don't miss this one! Luby's Macaroni and Cheese is so much better than the stuff that comes in the blue box.
Creamy Mac and Cheese
If you like creamy mac and cheese, don't miss out on this copycat mac and cheese recipe! Luby's Macaroni and Cheese made in your own kitchen is so much better than the stuff that comes in a box!
Luby's Mac and Cheese is one of the dishes always on their menu. But if you can't get to a Luby's, you can still prepare Luby's Macaroni and Cheese just like Luby's does, but in your own home.
This recipe for southern macaroni and cheese is simple and has a unique ingredient. It calls for dry milk and water instead of regular milk.
Maybe you grew up going to Luby's and had their mac n cheese every time. But then they closed their doors in your area. So, if you haven't been able to eat this in years, you can now make this stovetop mac and cheese at home. This dish comes out super awesome every time!
The Luby's Story
Bob Luby's first restaurant dates from 1947 in San Antonio. He wanted to serve good, fresh food in a comfortable setting people would enjoy and wish to return to time and time again – a place that feels like home.
The idea was a good one because it caught on. This texas-based eatery has a loyal fan base for a good reason – their food is delicious!
Why Is American Cheese the Best Cheese for This Recipe?
You may have noticed that some cheeses melt better than others. In fact, there's a scientific explanation for why. This is good to know because gooey melted cheese is the key to certain dishes – fondue, macaroni and cheese, pizza, quesadillas.
Yet certain cheeses make really bad choices for these dishes because they simply do not melt well or they get unpleasantly stringy.
American cheese sometimes gets a bad rap. People say it's too processed or it's not "real" cheese. However, one thing is absolutely true – American cheese somehow melts to the perfect consistency and tastes so good!
This is why American cheese definitely has a place in many recipes. It's ideal for this copycat cafeteria mac and cheese recipe.
Ingredients for creamy homemade macaroni and cheese
Here's what you need:
Dry elbow macaroni
Nonfat dry milk
Flour
Butter
Water
American cheese
Salt
How to Make Luby's Macaroni and Cheese
Cook macaroni according to the package instructions. Drain.

Combine dry milk, flour, and butter in a large bowl.
Gradually add boiling water, stirring constantly.
Add cheese and stir until smooth.

Add cooked macaroni to cheese sauce and stir to combine.
Transfer to a lightly greased baking dish.
Cover with foil and bake at 350 degrees for 25 minutes.
Remove foil. Sprinkle shredded cheese on top. Bake until cheese melts.
Serve and enjoy!
Love Macaroni and Cheese? Try these Recipes
Stouffer's Mac and Cheese
Spicy Mac and Cheese
Martha Stewart Macaroni and Cheese
Horn and Hardart Mac and Cheese
Copycat Panera Mac N Cheese
Instant Pot Mac and Cheese
Mac N Cheese Hot Dog
Best Luby's Copycat Recipes
Baked Fish with Mayonnaise
Shredded Carrot Salad
Southern Grits
Mixed Squash Casserole
Cold Spaghetti Pasta Salad
Coconut Cream Pie with Meringue
Be sure to take a look at more copycat restaurant side dishes and comfort food recipes.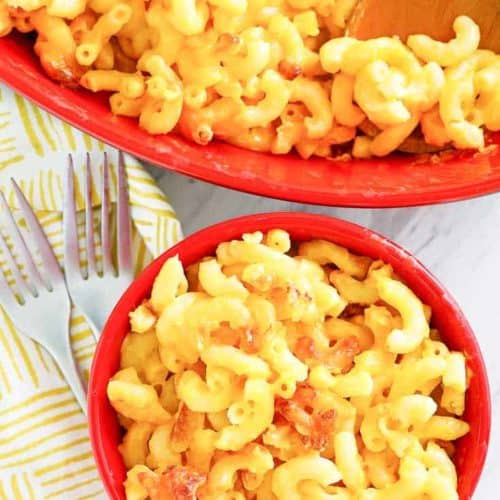 Print
Add to Collection Go to Collections
Luby's Macaroni and Cheese
Luby's Macaroni and Cheese is creamy and easy to make at home.
Ingredients
16

ounces

dry elbow macaroni

2

tablespoons

nonfat dry milk

2

tablespoons

all-purpose flour

1

tablespoon

melted butter

1 1/4

cups

boiling water

3

cups

shredded American cheese

divided use

1/4

teaspoon

salt
Instructions
Cook the pasta according to thepackage directions. Drain and set to one side.

Heat oven to 350 degrees.

In a large bowl, mix the dry milk, butter, and flour. Gradually add the boilingwater, beating constantly.

Add 1 cup of cheese and continue beating until the mixture is smooth andcreamy.

Stirin the macaroni, one more cup of cheese, and salt.

Transferto a lightly-greased 2-quart baking dish. Tightly cover with foil and bake at 350 degrees for 25 minutes.

Remove the foil and sprinkle withthe remaining cheese. Put back in the oven for 1 minute, or until thecheese melts.
Nutrition
Calories:
431
kcal
|
Carbohydrates:
46
g
|
Protein:
17
g
|
Fat:
19
g
|
Saturated Fat:
10
g
|
Cholesterol:
56
mg
|
Sodium:
977
mg
|
Potassium:
229
mg
|
Fiber:
1
g
|
Sugar:
3
g
|
Vitamin A:
580
IU
|
Vitamin C:
0.2
mg
|
Calcium:
584
mg
|
Iron:
1.2
mg
The post Luby's Cafeteria Macaroni and Cheese appeared first on CopyKat Recipes.