An authentic ziti recipe from Naples.
This Neapolitan recipe for ziti pasta with Italian lardo is another recipe that originated in what the Italians call  'la cucina povera' (the kitchen of the poor) Today, these dishes not only continue to be an important part of traditional regional cooking but are sought after and served in even the best restaurants! The main ingredient of this recipe, lardo, has become a much appreciated gourmet delicacy.
What is Italian lardo?
In the past, rural traditions and necessity made it important for the peasant and farming populations not to waste anything. Families who had pigs would slaughter them in the late summer/early autumn and preserve every part of the animal to see the family through the cold winter months. In fact, there is a well-known Italian expression 'del maiale non si butta via niente' – one throws nothing away from the pig!
Throwing nothing away also meant making use of the pig fat or lard. There are two kinds of Italian lard; lardo and strutto. The latter is rendered pig fat which was, and still is, used for cooking (instead of oil) and making pastry (instead of butter).
Lardo, on the other hand, is pig back fat which has been cured in various ways. Italians eat it on bread or add it to recipes such as this one for ziti pasta with Italian lardo, known in Campania as 'ziti lardiati'.
Families used to make their own lardo.
In the old days, farming and peasant families made their own lardo by preserving the back fat in salt. This lardo was very useful because it is very calorific and, therefore, helped the farmers get the calories they needed for all the physical work they did in the fields. By storing the lardo in salt, people could use it at all times of the year. But, it was especially popular in the winter.
Obviously this tradition is less common now. However, there are types of lardo which continue to be produced and are much loved here and even considered a delicacy.
The best lardo in Italy.
The two most famous types of lardo are Lardo di Colonnata and Lardo di Arnad. The first type has been made almost the same way since Roman times. It comes from the small village of Colonnata near the Carrara marble quarries in Tuscany. It was originally said to have been food for the quarry men.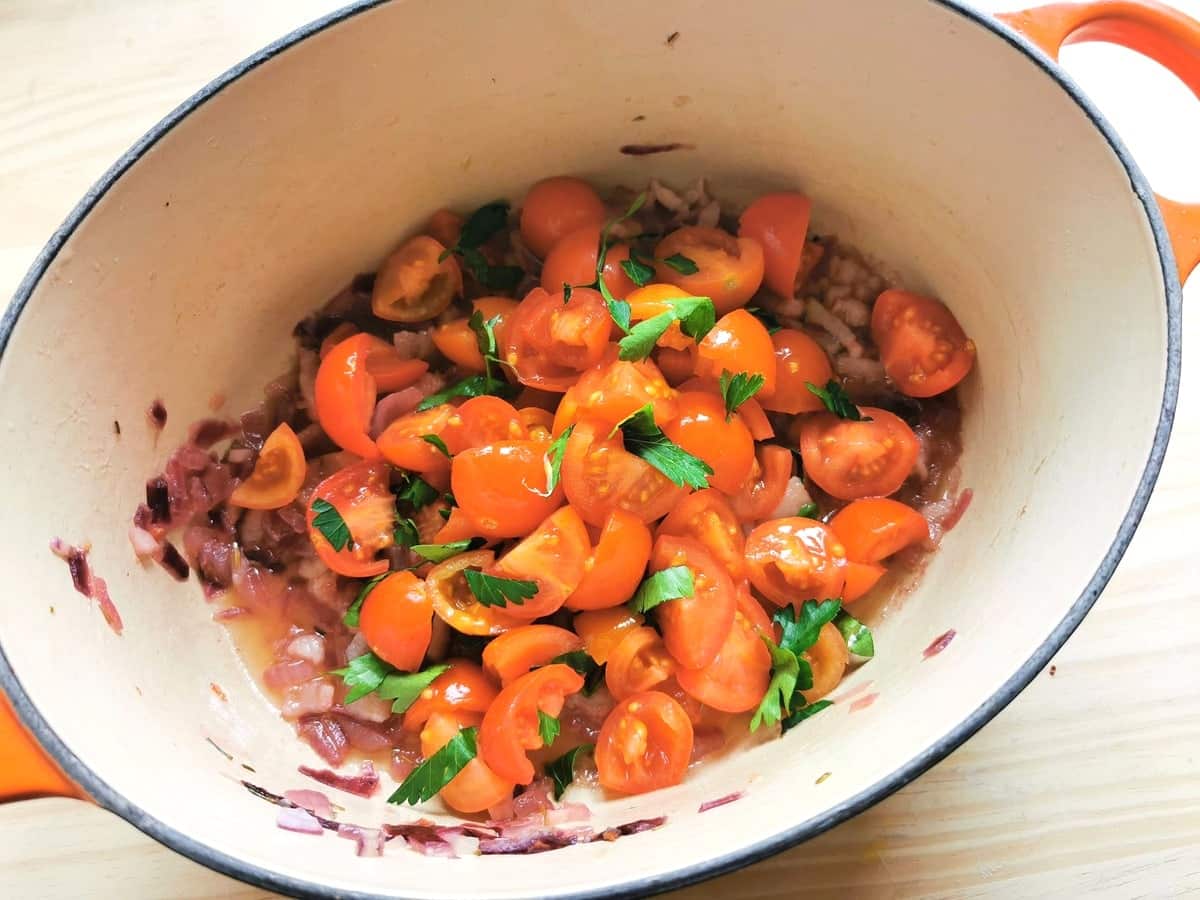 Amazingly, the pork back fat is preserved in Carrara marble basins called 'conche'. Carrara is the marble Michelangelo used to make his statue of  'David'! It has also been used in many other famous works of art and buildings all over the world since Roman times.
To make lardo di Colonnata, the producers put a trimmed piece of pork back fat into the bottom of a marble basin after the basin has been rubbed with garlic. The meat isn't refrigerated before curing. They then add salt, black pepper, rosemary, and garlic. Some also add sage, star anise, oregano, coriander, or even cinnamon, cloves or nutmeg. The basins are filled with layers of the lard and then the salt, herbs and spices. Then they are closed with a slab of marble.
Aging occurs naturally in caves.  It takes a minimum of 6 months. During this time they regularly measure the amount of liquid released by the salt-covered lard. Once it's ready, the lardo is very white, soft, fragrant, and extraordinarily sweet despite the large amount of salt used. The production of Lardo di Colonnata is regulated by IGP standards, which include aging the meat in marble. I used this lardo for my ziti lardiati.
Lardo di Arnad.
Lardo di Arnad comes from the village of Arnad in the Aosta valley and is made in a different way. This lardo is aged in wooden tanks called 'doils' for a period of at least three months. It is flavored with a mixture of aromas composed of juniper, bay leaves, nutmeg, sage and rosemary.
The back fat has to come from a pig with a minimum weight of 160 kg and aged no less than 9 months. In addition, the animal has to be bred in Val D'Aosta or in four other regions: Emilia Romagna, Piedmont, Lombardy and Veneto. Since 1996, lardo di Arnad is the only lard in Europe that can boast the DOP (Protected Designation of Origin) certification.
The other ingredients for pasta with Italian lardo.
The original Neapolitan name for this pasta with Italian lardo recipe is 'maccaruncielli lardiati'. Nowadays, most Italians call it ziti lardiati. Traditionally, it is made with ziti or zitoni (large ziti) or Neapolitan maccheroni. Like many other traditional dishes, there are some variations. Some people use only garlic or only onion, others use both.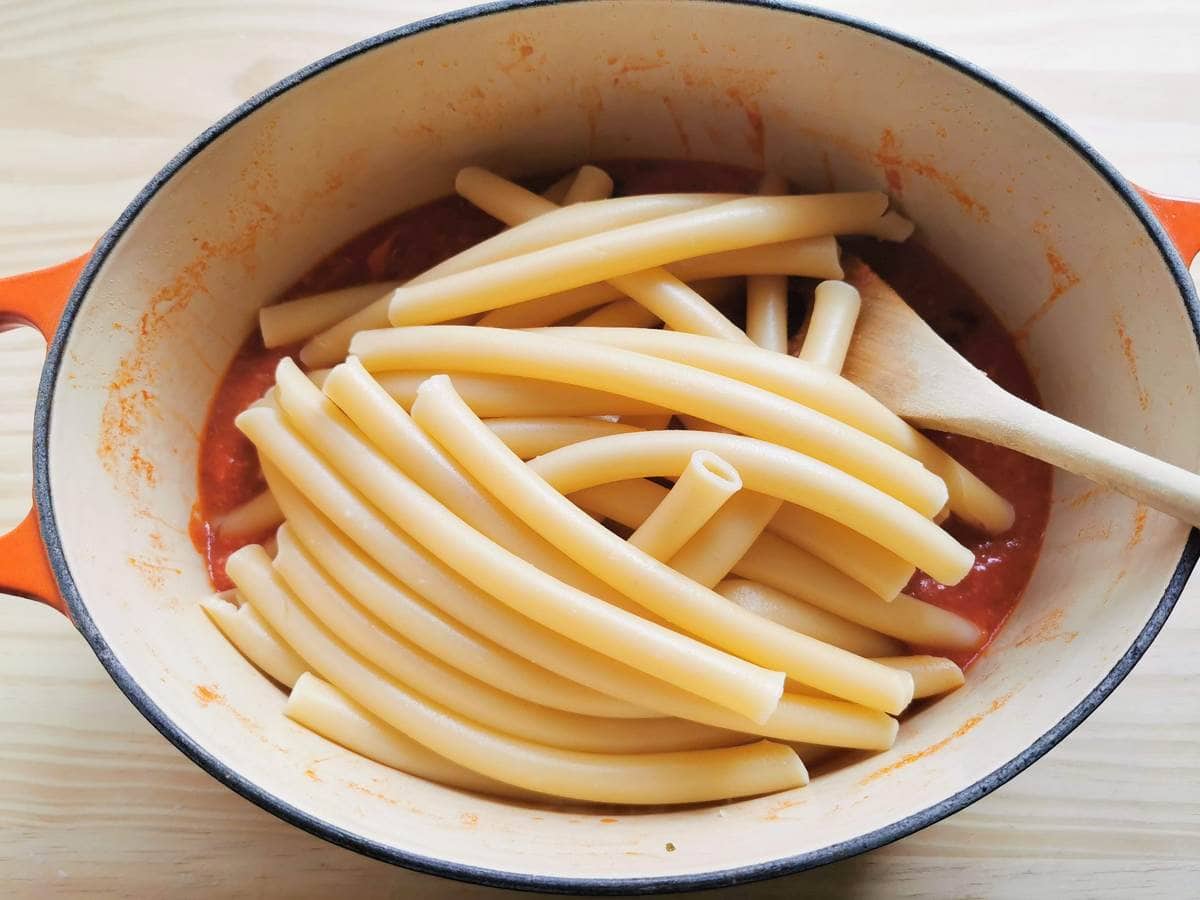 In addition, there are 'white' versions meaning without tomatoes. However, apart from the lardo itself, tomatoes (whether fresh or as passata) are used in most recipes for this dish. My only deviation from the most common recipes was to use parsley. I didn't have any fresh basil, but basil is usually the preferred herb.
This is a pretty simple recipe with only a few ingredients, but it's unbelievably tasty. If you can't find lardo, you can use pancetta or, even better, guanciale (pigs cheek). Of course, it won't be quite the same. The lardo literally melts and adds a different flavour to what you would get with pancetta or guanciale.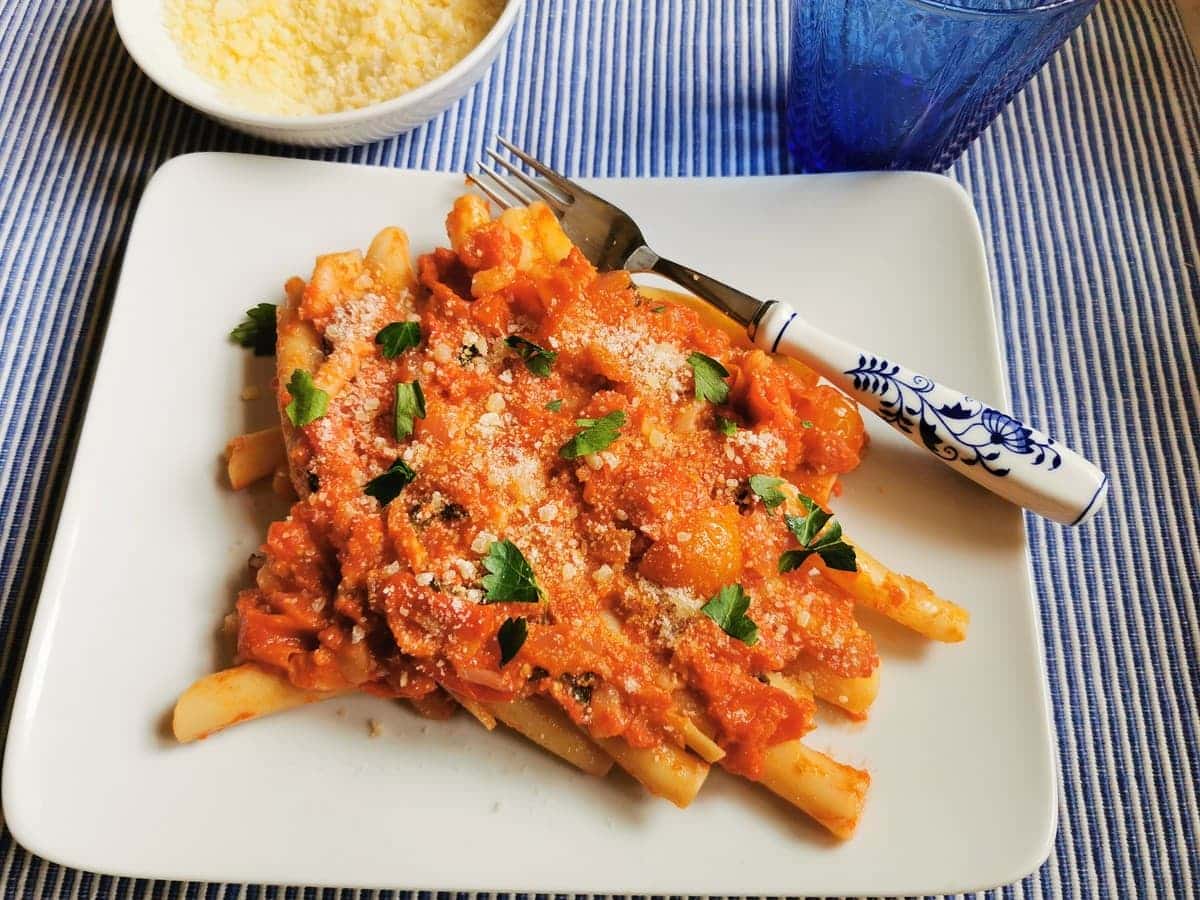 I have read that lardo is available to buy online or at Italian specialty shops in both UK and USA. So, if you'd like to try it, do get some. Although it's made from fat, it isn't greasy and has less saturated fat than butter! You can use it in this pasta with Italian lardo recipe as well as cut it thinly and eat it on warm bread! Yum!
If you make this ziti lardiati recipe, I'd love to hear how it turns out and if you liked it. So, please leave a comment here on the blog or on The Pasta Project Facebook page.
Looking forward to hearing from you!
Buon appetito!
(This recipe was first published in 2018 but has been updated)
Other ziti recipes on The Pasta Project.
Baked ziti with spicy sausage
Neapolitan baked ziti al gratin
Ziti pasta with La Genovese ragu
Parmigiana timballo with ziti
Save this recipe for later?
If you want to save this recipe for later, you can print it, bookmark this page or save it to Pinterest.
Pin for later.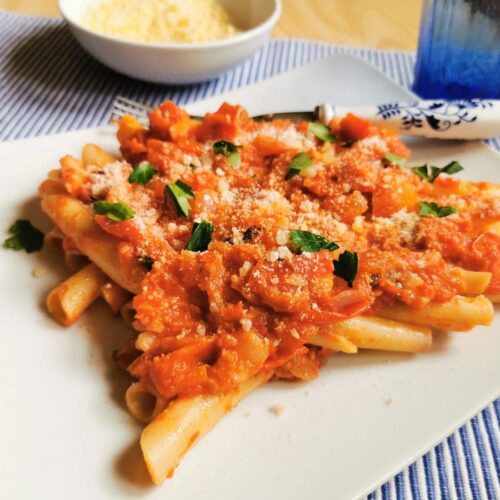 Print
Ziti pasta with Italian lardo (ziti lardiati)
This simple but delicious traditional pasta with Italian lardo recipe from Naples is bound to impress you and make you fall in love with lardo! Full of Southern Italian flavours and traditions!
Ingredients
320

g

Ziti or Zitoni pasta

(11-12oz) If using zitoni or long ziti you will need to break the pasta pieces in half

130

g

lardo

(4.5oz) preferably Lardo di Colonnata or Lardo di Arnad

1

onion

peeled and chopped

1

garlic clove

peeled

1

handful

fresh basil or parsley

400

g

fresh cherry tomatoes

(14oz) I used datterini

3-4

tbsp

tomato passata

1

tbsp

tomato concentrate

1/2

glass

white wine

50

g

pecorino cheese

(2oz)

3

tbsp

extra virgin olive oil

salt

for pasta and to taste
Instructions
Peel the garlic clove and onion. Cut the onion and lardo into very small pieces. 

Do the same with the tomatoes after washing them.

Heat the olive oil in a frying pan or skillet. Brown the garlic in the pan (be careful not to burn it) and then add the onion and lardo.

Cook slowly for 10 minutes so the lardo melts.

Put a pot of water on to boil for the pasta. When it starts to boil, add salt and bring to the boil again.

Add the white wine to the onions and lardo, turn up the heat and let the alcohol evaporate.

At this point add the tomatoes and a pinch of salt, then stir. add the basil or parsley. Once the tomatoes start to soften add the passata and tomato concentrate. Stir again.

Cook for 10 minutes then remove the garlic.

Cook the pasta al dente according to the instructions on the packet. When it's ready save a cup of the cooking water and drain.

Add the grated cheese to the sauce and mix together and stir until the cheese melts. If the sauce seems dry add some of the pasta cooking water.

Add the cooked pasta to the sauce and mix everything together so the pasta gets coated in the sauce.

Serve immediately sprinkled with a little more chopped basil or parsley, and some grated pecorino if required.