Now that Christmas and January are out of the way for a while, I'm back into a normal work pattern. I've been trying to set aside at least one day for playing around with ideas just for the sake of it. Needle felting is very much my 'day job' and my only other form of income, apart from my Patreon page, therefore any time spent being randomly creative is a luxury. So last weekend I set my needles aside and riffled through my everyday sketch book, to find a sketch I could work up and colourise.
This sketch and the larger pastel piece are based on some little textile figures I created a hundred years ago. They form part of an internal world I've built up over time and I think of them as 'the Walkers' who travel silently and ominously through my imaginary lands (though sometimes I fancy I sense them creeping behind the field hedge at dusk).
The next morning, I began setting up a scene for a painting I have in mind. I found a small fish motif in another sketch book and cut it out to make a pond.
Then, in need of a night sky, I roughly coloured up half of the backdrop…
…and made each Walker a fish amulet, using some lovely buttons. Worship the Fish!
All of this is based around another roughly sketched idea, hastily scribbled down before it could escape.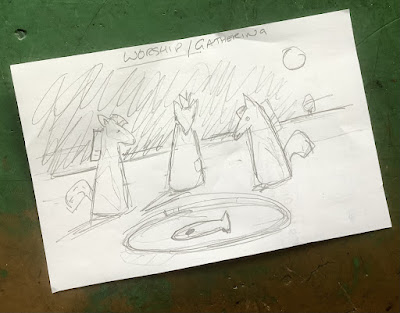 I took a final shot and edited it to produce the kind of lighting effect I will be aiming for, when I come to do the actual artwork. But playtime is over for a while, so the Walkers sleep until another day.